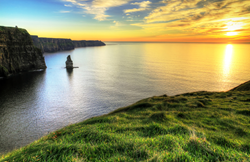 You'll be touring along a new route called the Wild Atlantic Way - complete with hiking, culinary, kayaking and artistic delights.
Vienna, Virginia (PRWEB) September 24, 2014
Greenloons, which guides travelers to sustainable, eco-certified vacations, offers a bespoke eight-day Wild Atlantic Way Adventure coinciding with some of western Ireland's fall festivals designed to help people explore – and enjoy – their Irish roots.
The per person rate is $3,450 including 4-star eco-certified accommodations, activities, transport, some meals, and guided activities. Admission to festivals and events is extra. There are daily non-stop flights to Shannon from New York and Boston.
The family-friendly trip spirits guests from Shannon along the western part of Ireland, where they will learn about Irish inland and coastal heritages, taste their way along the Burren Food Trail and explore the region via a sea kayaking and birdwatching excursions as well as through geology, nature and history lessons. "You'll be touring along a new route called the Wild Atlantic Way, complete with hiking, culinary, kayaking and artistic delights - along the rugged west coastline of Ireland." says Greenloons founder Irene Lane, "Colorful small shops and cozy pubs, traditional cottages and houses are just a few of the other attributes of this fully-guided trip."
During the week, participants will walk across Europe's most extensive karst landscape, listen to traditional music, bike on the Aran Islands and through Connemara, and learn a few key Gaelic phrases as well as why this region evokes sustainability at each turn.
Guests will tour farms to learn how nature, culture and farming have shaped the region. A farmer, who has inherited an ancient and unique system that links directly to pre-historic Burren farmers, will share his farming history. Walks along coastal cliffs will reveal ruins and vistas of this ancient land that during the stay may be captured plein aire during a personalized painting workshop.
Also, guests will have the special opportunity to engage in festivals and events in the region, including:

October 24 - 26: Cork Jazz Festival
November 8 - 16: Corona Cork Film Festival
November 8 - 10: Sneem International Folklore and Storytelling Festival
December 6 - 8: Dingle Other Voices Music Festival
About Greenloons
Greenloons is a premier online travel resource dedicated to inspiring people to think different, be different and travel different – in ways that help to ensure a more sustainable planet. In addition to being a recent recipient of National Geographic Traveler magazine's 50 Tours of a Lifetime, Greenloons is an advocate of social empowerment, financial viability, and environmental preservation connecting mindful travelers with unique and eco-certified travel experiences all over the world.