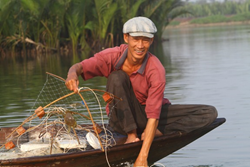 Spring break is more than just an opportunity for relaxation, it can be a chance to educate youngsters about wildlife conservation and community empowerment, all the while having a fun and unique family experience!
Vienna, Virginia (PRWEB) February 22, 2015
Global ecotourism concierge, Greenloons, recommends four adventures for eco-conscious families who seek unforgettable journeys to distinctive destinations that respect the world, its cultures, and the future.
These select journeys, which are fully customizable, to Vietnam, Costa Rica, Nicaragua and Mexico offer families the opportunity to visit various ecosystems, marvel at indigenous wildlife, learn about local folklore as well as participate in personalized cycling, hiking and cooking experiences. Guests stay at distinctive lodgings and immerse themselves in the local culture.
"Whether you want to get a taste of Vietnam's local experiences or learn more about the Monarch Butterfly migration patterns in Mexico or have us create a personalized sustainable getaway to another destination, Greenloons is your source for authentic and meaningful vacations for the whole family," says Irene Lane, founder of Greenloons.
Here are Lane's recommendations for the best and most budget-friendly Green Spring Breaks for 2015:
Discover Green Vietnam (12 days) – For families who want an off the beaten path experience that combines culture and adventure, this privately guided trip offers opportunities to bike through ancient villages within the scenic Mai Chau Valley, go birding through nature reserves, sail overnight in Halong Bay, share a meal with local families, visit with artists, and participate in a cooking class. Begins in Hanoi and ends in Hoi An with flexible departures from $ 1,580 p.p. double including luxury accommodations, activities, and some meals.
Costa Rica Family Adventure (7 days) – Specially designed for first time travelers to Costa Rica, this trip provides guests the opportunity to experience a variety of adventures including whitewater rafting on the Pacuare River, learning about organic farming methods at a coffee plantation, as well as visits to national parks, beaches, rain forests and active volcanoes. Begins and returns to San Jose, flexible departures from $ 1,600 p.p. double including luxury accommodations, activities and some meals.
Nicaragua Culture and Heritage (8 days) – For those intrepid explorers who are short on time, but long on adventure, this trip is a perfect introduction to Nicaragua's most fascinating cultural, adventure and natural heritage sites. Activities include volcano boarding, surfing, birding and hiking. Begins and returns to Managua, flexible departures from $ 1,610 p.p. double including accommodations, activities and some meals.
Mexico Monarch Butterfly Trail (10 days) – For the nature lover who also appreciates cultural luminescence, this quirky butterfly adventure will give families unique insights into the people and mariposas of Mexico. Travel through national parks, colonial towns and rural countryside following the migration of the monarch butterfly. Begins and returns to Mexico City, flexible departures from $1,499 p.p. double including accommodations, guided activities, and some meals.
About Greenloons
Greenloons is a premier online travel resource dedicated to inspiring people to think different, be different and travel different – in ways that help to ensure a more sustainable planet. In addition to being a recent recipient of National Geographic Traveler magazine's 50 Tours of a Lifetime, Greenloons is an advocate of social empowerment, financial viability, and environmental preservation connecting mindful travelers with unique and eco-certified travel experiences all over the world.