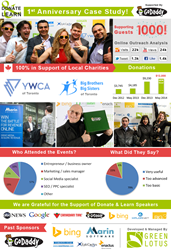 "What an incredible event, you have truly put the fun back in fundraising. The Donate & Learn is an amazing initiative bringing people together to experience learning" President & CEO Big Brothers Big Sisters of Toronto – Cathy Denyer
Toronto, Ontario (PRWEB) March 25, 2014
The Donate & Learn Initiative grew from the simple desire to support the local community through not-for-profit online marketing events. Following a series of sold out workshops and expos, the Donate & Learn Initiative has raised over $17000 for local Toronto charities and gained close to 1000 supporters, in just 1 year! Watch a video case study of the first Donate & Learn Expo.
In early 2012 Bassem Ghali (Founder & Head of Client Strategy at Green Lotus) wanted to give back to the community in a big way. With his expertise, business and network of marketing professionals, Bassem wanted to create an online marketing workshop/fundraiser and bring the community together in support of a local charity. Just like that, the Donate & Learn Initiative began to grow.
The first Donate & Learn event was sold out with over 220 attendees and $3,745 donated in support of the YWCA Toronto Adopt a Family program. In an unimaginable turn of events, the Donate & Learn initiative then gained the support of GoDaddy an international industry leader in the online world. With GoDaddy as a major supporter, the Donate & Learn initiative has grown exponentially! See the Infographic of the History of the Donate & Learn.
The initiative also gained the support a top marketing expert in the USA, John Shehata (Executive Director of Search & Social, ABC News), who flew in from New York to keynote at the second Donate & Learn event along with Sally Chung (Sr. Account Marketing at Google Canada). Again, the event was sold out with over 200 attendees and $4,185 raised for the YWCA Toronto Girls Center.
The 1 year Anniversary of the Donate & Learn was celebrated with a large Expo, over 450 attendees and close to $10,000 raised for Big Brothers Big Sisters of Toronto mentoring programs. All thanks to the support of additional international Sponsors Microsoft Bing and Marin Software, as well as keynote speakers Andrew Yang, Search Evangelist at Microsoft Canada; Tommy Kern, Professional Development at GoDaddy; and The Big3 Video Marketing Agency team, the Expo was an unforgettable event.
It's clear – Donate & Learn is continuing to grow exponentially. Just imagine the possibilities ahead!
For further Information Contact:
Bassem Ghali
Tel: 647. 405.2525
Email: Bassem(at)Greenotus(dot)ca
http://www.GreenLotus.ca