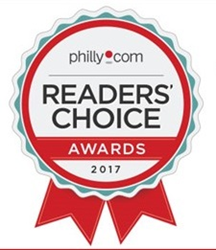 "It's an absolute honor to win the Readers' Choice Award. As a pest and termite service provider, this award really stands out. It proves we are dedicated to our mission of providing superior customer service in the Philadelphia tri-state region"
Philadelphia, PA (PRWEB) June 23, 2017
Green Pest Solutions is pleased to announce that is has been selected as the winner of Philly.com's 2017 Readers Choice Award for "Best Pest Control" based on its popularity among Philadelphia Media Network readers and strong reputation in the greater Philadelphia region.
The Philadelphia Media Network held a ceremony at Le Meridien Philadelphia in Center City to honor the recipients of its Readers' Choice Awards. The Philadelphia Media Network consists of the Philadelphia Inquirer, Daily News, and Philly.com. Every spring they hold a vote of their local readers to determine who among the thousands of Philadelphia area companies stand out as the best in their respective categories. In addition to voting for the best pest control provider, readers also were tasked with determining the best lawyer, auto dealer, real estate agent, veterinarian and several other types of businesses among its Home & Service category. Whoever got the most votes in each category was determined the winner and announced as such at the ceremony.
Green Pest Solutions was up against two other local pest control providers in its category after an initial round of nominations, and was determined the victor of the vote. The Owner and President of Green Pest Solutions, Matt Jesson could not have been prouder to win the Readers' Choice Award for Best Pest Control.
"It's an absolute honor to win the Readers' Choice Award. As a pest and termite service provider, this award really stands out. It proves we are dedicated to our mission of providing superior customer service in the Philadelphia tri-state region"
It certainly helped its candidacy for "Best Pest Control" that over its five years in business, Green Pest Solutions has grown into the largest locally owned and operated pest control provider servicing the greater Philadelphia area and that it has gained an almost unbelievably positive reputation over that time. The company has been named an Angie's List Super Service Award winner five straight years, Best of Home Advisor three times, and a Best Pick by Ebsco Research the last two years. The company has 5 stars on Yelp, 5 stars on Google and 4.8 stars on Facebook. Green Pest Solutions is also an A rated BBB Company, is Quality Pro Certified by the National Pest Management Association and a proud member of the Pennsylvania Pest Management Association.
None of Green Pest Solution's accolades could be achieved without its dedication to customer service. By putting their customers first they have achieved a level of success that is hard to achieve in such a relatively short period of time being in business. They have a rigorous hiring and training process, maintain a strict professional image, and back up their services with a satisfaction guarantee. They also practice integrated pest management which is a more family friendly approach to pest control where pesticides are only used inside the home as the last measure.
The 2017 Reader Choice Award is one of the more prestigious honors a local Philadelphia company can achieve. By having the backing of the Philadelphia Inquirer, the Philadelphia Daily News and Philly.com it has the largest locally concentrated voting base of any other Philadelphia business award. Between its newspapers and website the media network has an average reach of over 1.8M people a week. This is why Green Pest Solutions is so humbled by being named the 2017 Readers Choice vote. The people of the greater Philadelphia area made their choices for the best businesses in the region and their choice for best pest Control Company was Green Pest Solutions.
***************************************************
Green Lawn Fertilizing, Green Pest Solution's parent company is an independent lawn and pest control company that was founded in 2004. Under the leadership of Matt Jesson, President and Owner of Green Lawn Fertilizing / Green Pest Solutions, they are dedicated to becoming an industry leading company in the Lawn and Pest Industry. In 2012, 2013, 2014, 2015, and 2016 the company has received the Inc. 5000 award for being recognized as one of the 5,000 fastest growing private companies in the America. Both companies are A-rated and accredited by the Better Business Bureau. They perform lawn fertilizing and integrated pest management service for residential and commercial clients. They are active members of PLANET, National Association of Landscape Professionals and NPMA.