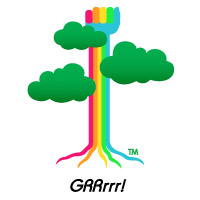 Confused by "greenwashing"? Tired of boring, beige, hippy crunchy designs? Green Rainbow Revolution has the cure! Modern, colorful, eco-friendly, ethically produced products your whole family will love!
Croton-on-Hudson, New York (PRWEB) February 28, 2014
The story of Green Rainbow Revolution begins with its Founder, Leila Goldmark. A few years back, GRR's Founder was an environmental advocacy attorney, happy as a clam, fightin' the good fight to protect New York City's drinking water...and then she had a baby.
GRR's Founder wanted to buy ethical, healthy, sustainable products for a new baby (the basics: art supplies, toys, lifestyle goods), and NERTS, that was hard!

PROBLEM 1: How does a parent weed though all the "greenwashing" to find, and understand, what they really want to buy? Sure, GRR's Founder knew a lot about the Clean Water Act and fighting polluters, but trying to understand the maze of laws, regulations, and third-party seals and certifications that applied to kids stuff - or any retail product - would give anyone a serious headache. Who should anyone trust?
PROBLEM 2: There were a fair number of organic and sustainable products available for babies, but a lot of them were just plain ugly! GRR's Founder was not convinced that being an environmentalist meant having to settle for poor design, poor quality, or boring beige hippy crunchy products that were decades behind the times. Did babies really have to go around in an oatmeal sack with pictures of googly-eyed vegetables all over it? Where was the style? Where was the color? Where was the fun?
THE SOLUTION: GREEN RAINBOW REVOLUTION
Eventually, that "Eureka!" moment hit and the idea for Green Rainbow Revolution was born.
Quite simply, Green Rainbow Revolution promises to source and develop products that are:

Modern and beautifully designed
Seriously fun
Sneakily (or not so sneakily) educational
Reasonably priced
Environmentally friendly &
Ethically produced
Founded by an environmental attorney, GRR takes health, safety, and transparency seriously. To help customers cut through the "greenwashing," GRR has developed its own nifty, color-coded GRR Benefit Symbols so shoppers can quickly find the types of benefits they're looking for.
To learn more about what makes Green Rainbow Revolution's Philosophy and what makes its Founder tick, just check out About GRR.
For more detailed infor on business practices and policies, please check out GRR's Legal Stuff.