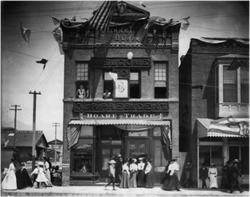 A building like this needs its historical significance salvaged. We want to honor that and tell its story.
Redlands, CA (PRWEB) November 22, 2016
A new ownership group, intent on salvaging the Redlands landmark formerly known as Joe Greensleeves, announces the purchase and re-opening plans of new restaurant Greensleeves Steakhouse. The restaurant space at 220 Orange Street is one of the oldest early business buildings left standing, originally constructed in 1892. Greensleeves Steakhouse will pay homage to the rich Redlands history and sense of community through the display of pictures and stories from the historic town.
Set to open in early December, Greensleeves Steakhouse invites you to be a part of the #SaveGreensleeves campaign, bringing prolific Redlands history into the building décor. The new owners are calling for members of the community to submit old photos and/or written stories of their beloved Redlands. These submissions will be incorporated into the interior design of the space, truly celebrating Redlands and the town's resonant history. The initial phase will involve minor cosmetic changes, while the subsequent phase calls for major renovation plans based on community input.
The owners, also local business owners in the surrounding areas, have a vested interest in the community, with the goal of getting former Joe Greensleeves employees (some with the restaurant for decades) back to work as soon as possible, before the holidays. Joe Greensleeves announced permanent closure in September of this year, after closing in April due to a minor kitchen fire. "A building like this needs its historical significance salvaged. We want to honor that and tell its story," states Ronnie Dawood, member of the ownership group.
This century-old space in downtown Redlands, recognizable by its iconic green awning, was originally constructed as the The Phinney Block building, housing the Redlands Board of Trade and Chamber of Commerce. Built with brick from local yards, the original owner, Mr. Mo Phinney, was a Redlands pioneer citrus grower and civic worker. Phinney was the most prolific investor on Orange Street, with four buildings completed on the street. The Redlands welcoming festivities for President McKinley in 1901 and President Roosevelt in 1903 were also planned in what is now Greensleeves Steakhouse.
"Redlands is the hidden gem of the Inland Empire, and we are proud to put a spotlight on this incredible community," the ownership group agrees. To submit photos and stories, please contact the group at info(at)greensleevessteakhouse(dot)com or 909-335-1752.
About Greensleeves Steakhouse
Greensleeves Steakhouse, due to open in early December, is located in the heart of Redlands, California at 220 Orange St. For more information and to join our email list, visit http://greensleevessteakhouse.com.
Like us on Facebook