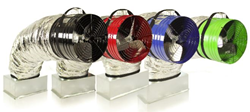 "Greenstar aims to offer environmentally conscious and sustainable solutions to make our homes in Las Vegas and Orange County more energy efficient and eco-friendly. A Whole House Fan is a great way to make your home more 'green'." - Jeremy Prevost, CEO
Las Vegas, Nevada (PRWEB) September 10, 2015
Orange County California and Las Vegas Nevada's Greenstar Home Services 'Green It Up™', is a leader in sustainable plumbing, HVAC maintenance, and whole home water filtration services.
Earlier this summer, Greenstar shared information on Whole House Fans by QuietCool, which can save homeowners up to 90% on A/C related electricity costs. The fans save energy by drawing in cool outside air through open windows to lower the high temperature in the home. Through a basic air exchange, the process removes heat from the entire home, creating a cooler, more comfortable environment.
Jeremy Prevost, Greenstar CEO shares new feedback about the QuietCool fans. "Since introducing this product to our Las Vegas and Orange County homeowners, the Whole House Fans have been met with great success."
Prevost continues, "Now, as we enter the start of the fall season, a Whole House Fan unit is even more effective. At night, when residents are relaxing at home and would usually turn on the A/C, the Whole House Fan helps circulate the hot air out and replace it with cooler air from outside."
"The Whole House Fan exhausts the hot air which builds up inside the home, to the attic, where it escapes to the outside through existing attic vents," explains Prevost.
Prevost concludes, "Greenstar aims to offer environmentally conscious and sustainable solutions to make our homes in Las Vegas and Orange County more energy efficient and eco-friendly. A Whole House Fan is a great way to make your home more 'green'."
To learn more on Greenstar Home Services and Whole House Fans visit http://www.greenstarhomeservices.com
Facebook (Facebook.com/GreenstarHomeServices)
Twitter (@GreenStarHome1)
To view Greenstar's blog, go to http://www.GreenstarHomeServices.com/blog
About Greenstar Home Services:
Greenstar Home Services provides environmentally conscious residential plumbing and HVAC service, repair and installation, as well as whole home central water filtration within the Orange County and Las Vegas markets. Our licensed technicians are available all hours of the day, seven days a week. With an expansive knowledge of home maintenance, we provide the highest level of service for our clients—and at an honest price.