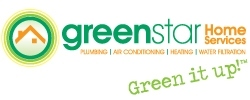 Saves Energy, Saves Space, and Saves You Money
Las Vegas, NV (PRWEB) December 24, 2014
As 2014 draws to a close, Greenstar Home Services reminds homeowners that before investing time and money into a new or tankless water heater, start by consulting a licensed professional that specializes in tankless and eco-friendly products or service. Greenstar urges homeowners who may plan to replace their water heater in 2015 to research "green" and environmentally friendly options before making a final decision.
Greenstar Home Services specializes in eco-friendly and environmentally conscious products and services for the home. Greenstar has many different options when it comes to tankless water heater systems.
Tankless water heaters are environmentally friendly as they stop the influx of tank type water heaters in landfills. Furthermore, tankless water heaters are up to 40% more efficient for the home's gas and electricity. Tankless water heaters save space that can be used for storage and they also provide a constant flow of hot water to the plumbing system.
Jeremy Prevost, Greenstar CEO notes that "most tankless water heaters are ENERGY STAR approved as they meet the strict energy efficiency guidelines set by the U.S. Environmental Protection Agency and the Department of Energy". Prevost continues, "Using less energy and preventing greenhouse gas, tankless water heaters are a smarter option."
Go to greenstarhomeservices.com for more information on tankless water heaters or to schedule a no cost consultation.
Facebook (Facebook.com/GreenstarHomeServices)
Twitter (@GreenStarHome1)
To view Greenstar's blog, go to http://www.GreenstarHomeServices.com/blog
About Greenstar Home Services:
Greenstar Home Services provides environmentally conscious residential plumbing and HVAC service, repair and installation, as well as whole home central water filtration within the Orange County and Las Vegas markets. Our licensed technicians are available all hours of the day, seven days a week. With an expansive knowledge of home maintenance, we provide the highest level of service for our clients—and at an honest price.