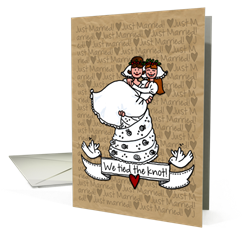 Whether gay or straight, all couples are pretty much the same when it comes to wedding plans.
San Francisco, CA (PRWEB) August 12, 2013
Greeting Card Universe, the world's largest greeting card store, announces its collection of over 1,200 hard to find and uncommon cards for same-sex marriages.
"According to CNN and the US Census Bureau, about 30.5 percent of Americans were or will be affected by the recent Supreme Court decisions regarding Defense of Marriage Act (DOMA) and California's Prop. 8," says Mindy Rosso-Gaemi, Community Manager at Greeting Card Universe. "With 13 US states and the District of Columbia currently allowing same-sex marriage and civil unions legal in four states, gay and lesbian couples are already taking advantage of the available opportunities by getting married even if they live in states which don't recognize their union at this time."
The US Census Bureau estimates 646,000 same sex couple households in the United States and approximately 115,000 of those households with children. Between 2000 and 2010, the number of such households rose more than 80%.
"Whether gay or straight, all couples are pretty much the same when it comes to wedding plans," says Rosso-Gaemi. "Some are content with a simple ceremony, while others want all the bells and whistles on their special day. Greeting Card Universe offers elegant and modern Gay & Lesbian Wedding Invitations, Wedding Attendant Invitations, Wedding Shower Invitations, Save the Dates and Announcements to suit even the most discerning Bridezillas and Groom Kongs. And for friends and family of the brides or grooms, there are fitting and unique Wedding Congratulations cards too."
"Once shoppers discover the variety of cards we offer, they'll never shop anywhere else," says Rosso-Gaemi.
Ordering online from Greeting Card Universe's collection is easy and convenient. Additionally, custom greeting cards can be created within 48 hours at no additional cost by requesting changes or a totally new design from a community of more than 6,100 freelance artists from around the world. Shoppers can also personalize the inside of all cards at Greeting Card Universe with their own text and photo. An added convenience for last minute shoppers, cards can be ordered online and picked up—usually within one hour—from most Target stores across the country.
Greeting Card Universe's traditional and niche offerings of over 597,000 cards gives nod to the importance of choice and personalization in today's marketplace and stays true to its tagline "any card imaginable."
Explore more uncommon holidays and occasions on the Greeting Card Universe blog. Mindy Rosso-Gaemi is available for guest blogs, radio and TV interviews on this topic and other uncommon occasions and holidays.
About Greeting Card Universe
Greeting Card Universe (http://www.greetingcarduniverse.com) is a division of BigDates Solutions, a private company that provides consumers with unique, personalized services for any holiday or occasion. Greeting Card Universe is the world's largest paper greeting card store, offering an unlimited selection of custom greeting cards, birthday greeting cards, photo cards, invitations, and note cards. BigDates Solutions is the leading provider of Online Reminder Service Solutions, powering gift-reminder services, including 1800Flowers.com and FTD.com. The company is also the owner of Birthday Calendar, a Facebook application with over 42 million installs.