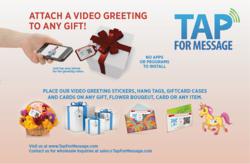 "With our line of products, anyone can physically attach a video greeting to any gift. We provide audio and video capability on stickers, paper cards, gift card holders and hang tags," says Ahmer Beg
(PRWEB) July 09, 2013
Tap For Message, a New Jersey based company, is the first to bring personalized audio and video greetings on a physical product. They have an innovative way to attach a video or audio greeting to your gift.
Tap For Message manufactures video greeting cards, stickers, hang tags, gift card holders with their patent pending technology which allows all smart phones, tablets and computer users to easily access a greeting video. Tap For Message has NFC (Near Field Communication) chips embedded that uses built-in wireless technology. This allows anyone to tap on their products to instantly play the video greeting on their smartphone.
Tap For Message Founders Kadeer Beg and Ahmer Beg saw a unique opportunity with the rise of smartphones and NFC adoption to create a convenient and quick way to attach personal greeting video messages for any occasion. As the smart phone adoption rate increases year by year, Tap For Message ensures their products are compatible with all smart phones and do not require any app to be downloaded or installed.
"With our line of products, anyone can physically attach a video greeting to any gift. We provide audio and video capability on stickers, paper cards, gift card holders and hang tags," Ahmer Beg says.
A personal greeting video can be recorded using a smartphone on the spot or a pre-recorded video can be selected. For example, a funny birthday video greeting can be attached to a gift for a kid, making it entertaining and memorable. Conveniently, Tap For Message video greeting products can be customized for any occasion with optional select-able themes.
"The technology bridges the gap between social media and traditional paper based greetings. Social media cannot deliver a physical gift, and traditional paper based cards cannot deliver video messages. Addressing the respective weakness of social media and traditional based greeting cards, Tap For Message offers timing, sophistication and creativity to revolutionize the gift giving experience," says Kadeer Beg.
The video greeting products such as cards, gift card holders, stickers and hang tags make it easy to affix to any item, including products sold by online retail stores. They also provide free consultation for online retailer integration.
Tap For Message was the finalist at the New York Stationary Show this year for Best New Product. The video greeting products can be purchased on their e-commerce store or Facebook page now and coming to retail and online stores in 2013.