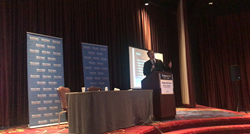 "We take pride in the strength of our compliance and anti-manipulative trading programs at the firm. I enjoyed showcasing our capabilities in trading surveillance, regulation, and compliance program management."
New York, NY (PRWEB) April 26, 2017
Gregory Hold, CEO of Hold Brothers Capital, LLC was a featured speaker at the 2017 Traders Expo in Manhattan, where he gave a presentation on, "Catching Market Manipulation in the Day Trading World - Regulatory Concerns and Challenges Ahead." He covered best practices for compliance surveillance programs and insights from his 23 years of executive operations in the industry.
The expo brought the country's top trading pros together to discuss the newest developments in the trading industry, including software and trading techniques. Gregory spoke at 4:30 PM on Day 2 of the conference on center stage, where he stressed the importance of staying ahead of trading trends, implementing innovative reporting mechanisms to catch "out of the ordinary" trading activity, and instilling a culture of compliance across all departments.
Hold Brothers CEO, Gregory Hold, "We take pride in the strength of our compliance and anti-manipulative trading programs at the firm. I enjoyed showcasing our capabilities in trading surveillance, regulation, and compliance program management."
About Hold Brothers
Hold Brothers is a leader in providing equities traders with the tools and information they need to execute trades quickly, effectively and efficiently, in any market environment. Since 1994, Hold Brothers has been committed to developing flexible and cutting-edge technology designed to meet the changing demands of the global trading industry. For more information, please visit: http://www.hold.com.
*Hold Brothers is the marketing name for Hold Brothers Capital, LLC (a registered broker-dealer and a FINRA member) and its affiliates. All securities activities and transactions are handled through Hold Brothers Capital, LLC.
For more information contact:
(Vera Shulgina, vshulgina(at)hold.com, 646-745-2112)