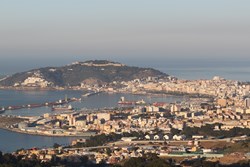 "I wanted my kids to see the first hand devastation caused by drugs," said Dr. Greg Owens.
Cincinnati, OH (PRWEB) September 09, 2013
Dr. Greg Owens, Cincinnati Pelvic Surgeon, traveled with his wife and children to remote areas in Spain to experience firsthand the devastation caused by drug abuse. According to the most recent report by European Monitoring Center for Drugs and Drug Addiction dated June, 2013, *(1) Spain is the number one European country for drug trafficking, reportedly having two-thirds of all drug seizures happening in Spain. Due to the close proximity with Morocco, which also has a large drug clientele, according to the same report, it makes Spain a convenient location for drug distribution.
Working with a group of missionaries, Dr. Owens and his wife, Dr. Julia Lee, Cincinnati area Gynecologist, connected with the Betel Drug Rehabilitation Organization. This free-of-charge group is in more than 70 cities and 20 nations reaching out to help those who are seeking assistance.
The Betel was started by a Harvard MBA graduate Dr. Elliot Tepper. Once deeply involved in drugs himself, he realized the need for a rehabilitation program that actually works. Born a Jew, Dr. Tepper converted to Christianity sometime in the 1970s and has made it his life's work to assist those whose lives have been ravaged by drugs.
While in Spain, Dr. Owens and his family partnered with workers, going into the areas hardest hit by drugs. They witnessed government vehicles which distributed new needles to the residents in an effort to thwart off the AIDS epidemic. They met former upper class businessmen and women whose lives have been ruined by heroin use.
In Morocco they traveled under cover, fearing for their safety in this Muslim country. According to the web site *UK.Gov,(2) which details the travel and local customs of Morocco, it states that because of the Islamic religion, it is illegal to carry any type of Bible in Arabic, to distribute any non-Muslim or evangelistic literature or to be involved in any such activities. But Dr. Owens and his wife felt they had a purpose for visiting the country. But Dr. Owens and his wife felt they had a purpose for visiting the country.
"I wanted my children to see the first hand devastation caused by drugs," Dr. Owens Dr. Owens said. "I wanted them to learn the value of serving others, regardless of their social position in life." In Madrid they visited the Gypsy Camp which is home to the largest drug market in Madrid. Betel brings food and offers assistance weekly to those who are seeking help. But they must be willing to work to achieve their goals.
Each of the Betel locations are self-sufficient and run by former drug addicts. Their residents must commit to being drug free (with counseling and spiritual guidance), and must work for their room and board. Each Betel brings in revenue by the businesses created by the mission such as selling second-hand furniture, bakery goods, repair shops or retail stores.
Dr. Greg Owens has partnered with Betel to spread the word about the work they do in the many countries where they are located. For more information about Dr. Greg Owens, visit his web site at http://www.advancedpelvic.com/.
(1) * http://www.emcdda.europa.eu/publications/edr/trends-developments/2013
(2) *https://www.gov.uk/foreign-travel-advice/morocco/local-laws-and-customs