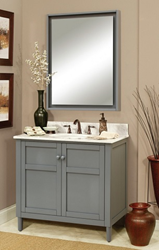 Most gray bathroom vanities are transitional in terms of overall style, with lines that are simple and straight, but with more texture to them than modern cabinets.
(PRWEB) June 13, 2014
HomeThangs.com – the Online Home Improvement Store has made their goal to deliver the right product to the consumer. With that in mind, shopping and home design tips, as well as special product selections are being introduced.
Gray is one of the hottest colors in home design right now. It's showing up in everything from tile to tea towels, and recently there's been a big surge in the popularity of gray bathrooms and gray bathroom vanities in particular. This seemingly neutral color is the perfect transitional bridge between a cool modern color scheme and a more traditional palette, and HomeThangs.com has introduced a guide to using gray vanities to create a contemporary bathroom with a slightly formal look and feel.
There are two big trends that are fueling the rising popularity of the color gray, and interestingly enough, one of them is all about modern materials, and the other is about a return to classic design. Stainless steel and concrete have become major hallmarks of modern design, particularly in the last few years, and simple gray bathroom vanities evoke this cool, modern industrial palette. It's rare to see stainless steel or concrete in a bathroom, but the color gray alone helps evoke them, giving gray bathroom vanities that subtle contemporary edge.
On the other end of the spectrum is a very different sort of industrial decor: a resurgence of turn of the century warehouse and farmhouse inspired designs. These styles see a lot of gray, both in concrete and weathered wood, as well as more elegant touches like gray upholstery. This trend is less about antiques and more about things that are simply old, but that air of tradition is important, and lends the style a little touch of sophistication. Even very modern gray bathroom vanities often mimic the weathered gray of reclaimed wood to get this slightly earthier, more traditional look and feel.
All that said, part of the appeal of gray bathroom vanities is simply that there aren't many of them out there. Painted bathroom vanities mostly fall into one of two camps: a classic cottage white or a sleek modern black. A gray finish literally forces these two styles to meet in the middle by combining the two colors – and the result is exactly that: something that's a little more daring than the traditional white, but not quite so bold or assertive as a very modern black.
Most gray bathroom vanities also fall into the transitional category in terms of overall style, too, with lines that are simple and straight, but with more texture to them than modern cabinets. Shaker-inspired cabinet fronts are a very common feature; this is a very, very traditional style, but an incredibly simple one. It has that subtle classic feel without being too ornate or elaborate for a contemporary space – and the light gray finish helps underscore this balance.
Of course, there are modern gray bathroom vanities, too, which often have a faux wood grain or a very glossy gray finish. Even if it obviously isn't real wood, a "wood grain" gray vanity has a slightly earthier, more traditional feel, while a high gloss surface is pure modern design. The latter are also typically simpler and sleeker in design, without the ornamentation found on more staunchly transitional vanities, so the look winds up being a bit more chic than casual contemporary.
The trend towards gray bathroom vanities mostly overlooks metallic grays, but there are a few exceptions – particularly ones that have this same blending of old and new. A highly reflective metallic finish won't do, but one that's aged or "tarnished" to look more like an antique silver or pewter gives the vanity a much more classic feel while still evoking a very modern industrial stainless steel.
For more ideas on how to incorporate gray into a bathroom decor, check out the full article here.
HomeThangs.com is not only a home improvement superstore, it also provides expert design tips and a comprehensive shopping guide, taking the ideas from professional interior designers, and offering tips to the consumers on how to pick the products to best suit their needs.