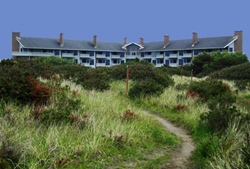 Its fine reputation and the close knit "family" of employees make this property a great destination for travelers to the area
Ocean Shores, WA (PRWEB) May 13, 2014
Coho Services has announced the appointment of Darcy Hambrick as General Manager of The Grey Gull Hotel effective May 5, 2014. Ms. Hambrick attended the University of Oregon and Portland State University, and brings more than 15 years of experience to her new role having previously served as a General Manager for the Holiday Inn Express & Suites in Seattle, as well as Director of Operations for the prestigious Avalon Hotel and Spa and The Governor Hotel in Portland, Oregon.
"We welcome Darcy's experience and leadership to the hotel's community," said Mr. Bill Conner, President of the Board of Directors at the Grey Gull. "In her new role as General Manager, she will be responsible for the overall operation of the hotel. We look to her to play an important role in extending our track record of service and quality to our customers."
"The Grey Gull is at the forefront of the hotel community in Ocean Shores, Washington. Its fine reputation and the close knit "family" of employees make this property a great destination for travelers to the area," said Ms. Hambrick. "I look forward to working with the staff and continuing to serve the local community and out of town guests."
Ms. Hambrick has experience in guiding hotels to make them leaders within their markets. Prior to The Grey Gull, Ms. Hambrick served as General Manager for Holiday Inn Express & Suites in Seattle, Washington, where she received multiple awards for outstanding customer service, and increased revenue at that property by 10% through a strategic plan to increase revenue and enrich maintenance and housekeeping standards. At the prestigious Governor Hotel in Portland, Oregon, Ms. Hambrick re-wrote the hotel's history which was posted on the website and sold as a book at the hotel and at the Oregon Historical Society.
Ms. Hambrick has always been involved in the communities where she has worked and is looking forward to becoming involved in Ocean Shores as well.
About The Grey Gull in Ocean Shores:
The Grey Gull is not your typical hotel rooms. Each room is decorated differently which makes them charmingly unique. Every unit faces west out to the ocean where you'll find a porch or balcony ideal to watch the sunset or keep an eye on the pool and hot tub. Each room has a clean burning gas fireplace and a fully stocked kitchen. Most rooms are complete with an oven and stove, refrigerator/freezer, dishwasher, toaster, microwave, dishes, glasses, flatware, and cooking utensils. The pet-friendly hotel features one and two bedroom suites along with studio units for those desiring a more compact accommodation. A short walk through scenic sand dunes to the crashing waves of the Pacific Ocean promises fun for everyone (including your four legged family). For more information please visit the property online at http://www.thegreygull.com
About CoHo.Services:
With over twenty years in the hospitality industry as owners, operators and consultants, CoHo.Services, brings a level of expertise and reputation unmatched by any other hotel management company in the market. CoHo.Services has the ability to offer a wide variety of hotel management services directed to meet the complex needs of each individual operation and investor group in the most cost-effective manner. For more information visit CoHo.Services online at http://www.cohoserv.com