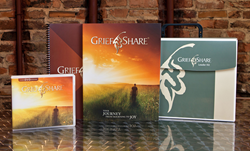 The need for GriefShare has never been greater.
Wake Forest, NC (PRWEB) July 22, 2014
With a rapidly aging population in the United States—the number of Americans aged 65 and older is expected to nearly double by 2040—more individuals and families than ever will face the challenges of loss. In the coming years, the U.S. will experience a tsunami of grief as baby boomers mourn the death of their parents and peers, and as family and friends grieve the loss of baby boomers.
That's where GriefShare, a 13-week support group course designed to serve those weathering the loss of a loved one, steps in. With a worldwide network of 12,000 churches equipped to offer GriefShare, tens of thousands of individuals have been served. And with a new release of GriefShare now shipping, there has never been a better time to discover all the amazing benefits of this program.
"The need for GriefShare has never been greater, so our latest update couldn't come at a better time," said Steve Grissom, president of Church Initiative, the nonprofit that publishes GriefShare. "Fresh and innovative, the new version of GriefShare is built on 15 years of experience working with local communities to provide ministry to grieving people. This collaboration has helped us create ministry tools that are deeper and richer than ever before."
Here's what GriefShare group members experience during a weekly meeting:

A magazine-style video seminar featuring insights from 46 leading experts on grief and recovery
Profiles of people who have experienced healing following a loss
A small group discussion
Workbook and journaling exercises during days between the weekly sessions
Mastered in crisp, beautiful HD video, the newest update of GriefShare includes hours of all-new content:
Powerful new testimonial interviews
New insights from an expanded lineup of respected contributors
Compelling new mini-dramas
Updated and expanded leadership training and workbook materials
Thousands of GriefShare support groups will be starting with the new curriculum this fall. Now is the perfect time to join a group. To find one in your community, click here.
"GriefShare brings in people who are desperately hurting, desperately looking for answers," said Nancy Guthrie, who cohosts GriefShare with her husband, David. "They are so open to find something to soothe their pain, to find some answers for their questions. And I think GriefShare does that like nothing else."
For ordering information, visit the GriefShare website or call the Church Initiative offices at 800-395-5755. For interview requests, contact Church Initiative president Steve Grissom at sgrissom(at)churchinitiative(dot)org or 919-562-2112.
ABOUT CHURCH INITIATIVE
Church Initiative is nondenominational, nonprofit ministry serving more than 20,000 churches worldwide. From its headquarters in Wake Forest, North Carolina, the ministry creates and publishes video-based teaching materials to help churches minister to people experiencing life crises. Church Initiative programs include GriefShare, DivorceCare, Single & Parenting, and DC4K (DivorceCare for Kids).