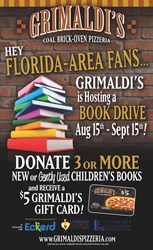 FORT MYERS, FL (PRWEB) August 11, 2013
FOR IMMEDIATE RELEASE
Grimaldi's Pizzeria, famous for its award-winning, hand-tossed, coal-fired brick oven pizzas and calzones, has partnered with Literacy Council Gulf Coast for a Back to School 2013 Book Drive from Aug. 15 through Sept. 15. Guests who donate three new or gently used elementary school books at the Grimaldi's Pizzeria Fort Myers location will receive a Grimaldi's $5 off card (limit one per person. Grimaldi's $5 off card good for future visit only). Donations benefit Literacy Council Gulf Coast (http://www.literacygulfcoast.com), an organization that assists adults and children to acquire the literacy skills necessary to improve their quality of life.
"It is important for us to give back to the communities where Grimaldi's Pizzeria has restaurants and education is of vital importance. We have held book drives in other markets so we are excited about implementing one in Florida," said Brittany Maroney, director of marketing of Grimaldi's Pizzeria. "We are eager to collect books for children who can learn from them, and might not otherwise be able to enjoy them."
Books may be dropped off at Grimaldi's Pizzeria local restaurant at the Bell Tower Shops, 13499 S. Cleveland Ave Ste. 201, Fort Myers, FL 33907
About Grimaldi's Pizzeria:
In the world of pizza, Grimaldi's is an institution that has garnered more awards than any other pizzeria in the country with more celebrity sightings than most 5-star restaurants. Using only the freshest ingredients, a "secret recipe" pizza sauce, handmade mozzarella cheese and dough, Grimaldi's serves traditional pizza (as it began in Naples, Italy) in an upscale yet casual, family oriented pizzeria. The intense heat of the oven evenly bakes the pies to create Grimaldi's famous crispy and smoky thin crust that Zagat has voted best pizza year after year. Grimaldi's Pizzeria has three locations in the Tampa area: Countryside
27001 US Highway 19 N. Ste. 1140, Clearwater, FL 33761; Citrus Park, 7990 Citrus Park Town Center
Tampa, FL 33625; and Westshore 253 Westshore Plaza Ste. B1B, Tampa, FL 33609.
For more information on Grimaldi's Pizzeria visit http://www.grimaldispizzeria.com.
"Like" Grimaldi's Pizzeria on Facebook: http://www.facebook.com/GrimaldisPizzeria
Follow Grimaldi's Pizzeria on Twitter: http://www.twitter.com/grimaldispizza
About Literacy Council Gulf Coast:
The mission of Literacy Council Gulf Coast Mission is to assist adults and children to acquire the literacy skills necessary to improve their quality of life. The Literacy Council Gulf Coast provides free instruction for adults in reading and writing, and in English for Speakers of Other Languages (ESOL). They offer a Moms and Tots Family Literacy program for mothers and their young children and a program called Kids+ Lifelong Learning, which teaches parents through an innovative partnership with the Lee County School District.
Media Contacts:
Brittany Maroney
bmaroney(at)grimaldispizzeria(dot)com
480-947-7100
Phyllis Ershowsky
phyllis(at)pkecreative(dot)com
239-565-5996
Alison Drake
Alison(at)ADMarketingTeam(dot)com
239-337-9260