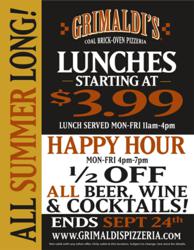 We are delighted to offer these new summer programs.
Tampa, FL (PRWEB) July 01, 2013
Grimaldi's Pizzeria famous for its award-winning, hand-tossed, coal-fired brick oven pizzas and calzones, has introduced both Lunch and Happy Hour programs in select locations including Citrus Park, Countryside, and WestShore.
Lunches start at $3.99 offering guests a selection of favorite pizzas, calzones and salads served from 11 a.m. to 4 p.m. And from 4 to 7 p.m., Happy Hour takes place with half off all wine, beer and cocktails. Both offers are valid all summer long, Monday through Friday until Sept. 24, 2013 at all three Tampa area locations.
"We are delighted to offer these new summer programs," said Cory Lattuca, food & beverage director/corporate chef. "This provides our guests with a unique opportunity to sample our menu and enjoy our ambience at various times of the day."
About Grimaldi's Pizzeria:
In the world of pizza, Grimaldi's is an institution that has garnered more awards than any other pizzeria in the country with more celebrity sightings than most 5-star restaurants. Using only the freshest ingredients, a "secret recipe" pizza sauce, handmade mozzarella cheese and dough, Grimaldi's serves traditional pizza (as it began in Naples, Italy) in an upscale yet casual, family oriented pizzeria. The intense heat of the oven evenly bakes the pies to create Grimaldi's famous crispy and smoky thin crust that Zagat has voted best pizza year after year. Grimaldi's Pizzeria has six locations in Florida including Fort Myers, Clearwater, two in the Tampa area, Palm Beach Gardens and West Palm Beach.
For more information on Grimaldi's Pizzeria visit http://www.grimaldispizzeria.com "Like" Grimaldi's Pizzeria on Facebook: http://www.facebook.com/GrimaldisPizzeria Follow Grimaldi's Pizzeria on Twitter: http://www.twitter.com/grimaldispizza
For Grimaldi's Pizzeria:
Media Contacts:
Brittany Maroney
bmaroney(at)grimaldispizzeria(dot)com
480-947-7100
Phyllis Ershowsky
phyllis(at)pkecreative(dot)com
239-565-5996
Alison Drake
Alison(at)ADMarketingTeam(dot)com
239-337-9260