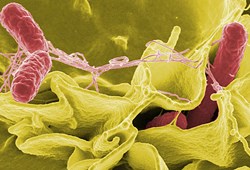 (PRWEB) December 10, 2013
The CDC reports that 1 in 6 people contract food poisoning. Food is an important part of holiday entertaining, and the diligent use of Amazing! NOK OUT® in your kitchen and food prep areas keeps your celebration mirthful instead of miserable for yourself and your guests. Do not become a statistic; proper food handling is crucial in preventing food borne illnesses.
Statistics indicate that 22 million turkeys are consumed at Christmas-time. As a precaution, consumers must assume that all turkeys are contaminated, and must be handled carefully. The main culprit in poultry is a bacterium called salmonella. The CDC reports an estimated 1.2 million cases of salmonella food poisoning is reported yearly in the U.S.
NOK OUT® is lab-proven to kill salmonella 10/10. Grime Busters recommends the following steps for cleaning and disinfecting the preparation area to ensure that every meal prepper eliminates any risk of the bacteria lingering behind.
The kitchen area must be kept germ-free. Always wash your hands thoroughly before and after you handle the raw meat. Food handling gloves are advisable, especially if open cuts or abrasions are present.
Pre-cleaning instructions:
1) Remove gross filth by cleaning
2) Wipe down the kitchen sink and work area with disposable paper towels – removing all organic matter
3) Spray NOK OUT® on to soiled surfaces, thoroughly clean
4) Allow surfaces to remain wet for 5 minutes for disinfection of Gram-negative Bacteria, such as Salmonella
5) Proceed with food preparation – there is no need to wipe off surfaces since NOK OUT® is proven safe for food preparation surfaces and has amazing residual properties that continue to work after surface has dried.
Following these simple guidelines alleviates concerns about getting rid of those uninvited, gate-crashing, malicious marauders that turns holiday memories into nightmares.
Grime Busters and Amazing NOK OUT® wish all a happy and healthy Merry Christmas!