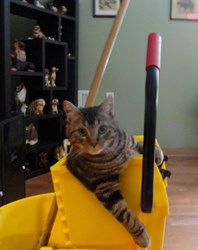 As you can see we have never had an issue with the product being unfriendly to the animals.
Gaylord, MI (PRWEB) January 07, 2014
There are instances where animal shelters can be very unattractive and odoriferous. It can be difficult to concentrate on selecting the perfect pet when olfactory senses are assaulted with unpleasant smells.
NOK OUT® kills the germs that make the odors, resulting in a cleaner, healthier and more attractive environment for the animals, volunteers and visiting public.
The Association of Shelter Veterinarians, (ASV) an international organization whose mission is to improve the health and well being of animals in shelters through the advancement of shelter medicine, has published a living document entitled Guidelines for Standards of Care in Animal Shelters.
The ASV stresses the importance of sanitary conditions as being essential to humane animal shelter environments. Proper disinfecting protocols help to reduce the spread of infectious diseases to both animals and people.
A clean shelter is healthier for animals and people, while helping to promote a more attractive environment to the general public.
Mona Minish, Vice President of With a Little Help From My Friends' Pet Crisis Center, a non-profit 501C (3) Public charity organization, in Bellaire, Michigan, understands the importance of sanitary and healthy conditions. This feat has been accomplished by partnering with Grime Busters and Amazing! NOK OUT® for use in their daily regime of disinfecting and cleaning protocols. They are very satisfied with the results of using NOK OUT®. The shelters' pets are happy and healthy and the shelter is germ and odor free, making it an attractive environment to both visitors and volunteers.
The shelter has been using NOK OUT® since they opened in June of 2011. They love the product and would not think of using anything else. Although some associates have suggested other cleaners which are more economical, they refuse to switch. They appreciate the fact that it is a non-toxic, green, environmentally friendly solution and is proven to work against germs and odors.
The shelter has a strict cleaning schedule, using NOK OUT® products exclusively throughout. From cat litter boxes, disinfecting bathrooms, mopping, steaming floors and shampooing dogs.
The State of Michigan requires yearly inspections of animal shelters. The inspector commented on the healthy appearance of their cats and the attractiveness of their "cat room" where the odor is non-existent, although the cat population averages between 19-25 on any given day.
Also, it is worthy to note, that the shelter houses an average of seven dogs, and their "dog rooms" have the same attractive sanitary conditions.
WaLHFMF has a budget which includes the cost of NOK OUT®. Although bleach is less expensive, it is harmful to pets, which are susceptible to respiratory ailments and people with reactions to bleach.
The shelter noted that no respiratory problems have been encountered while using NOK OUT®, which is lab tested for safe use around animals.
About Grime Busters:
Created in 2007, Grime Busters is a distributor of the Amazing! NOK OUT® – a hospital grade, broad spectrum disinfectant and deodorizer which eradicates malicious germs by the process of oxidation. To find out what Grime Busters can do for you, visit nokout.us.