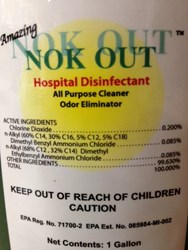 It's amazing how NOK OUT's Chlorine dioxide formula kills microorganisms by cutting off their food supply.
Gaylord, MI (PRWEB) February 04, 2014
The most resistant organism in the healthcare environment is the bacterial spore. Bacterial spores serve largely as a resting, or dormant, stage in the bacterial life cycle, serving to reserve the bacterium through periods of unfavorable conditions; as in the case of C. Difficile which can remain dormant for as long as 5 months. When the conditions become favorable for germination, the spore will activate and spread its pernicious contagion. In order to destroy these spores, the cell wall must be disrupted.
Stabilized chlorine dioxide, the main ingredient in NOK OUT™ has long been known for its sporicidal properties as demonstrated in the anthrax spore decontamination of the American Anthrax Outbreak of 2001. Chlorine dioxide is an antimicrobial pesticide recognized for its disinfectant properties since the early 1900s. Chlorine dioxide kills microorganisms by disrupting transport of nutrients across the cell wall.
In addition to anthrax, there are other formidable gram positive types, such as C. Difficile, Staphylococcus aureus, Pseudomonas aeruginosa, Methicillin Resistant Staphylococcus aureus (MRSA), and Vancomycin Resistant Enterococcus faecalis (VRE). What makes these pathogens so intimidating? Their ability to protect themselves from environmental threats such as temperature changes, lack of food supply, or chemical treatments by developing a spore, a reproductive cell capable of developing into a new individual without fusion with another reproductive cell. The endospore coat is extremely resistant to environmental stresses such as drying and extreme heat, as well as chemical disinfection.
But Amazing! NOK OUT™ is EPA registered and lab tested to destroy these gram-positive bacteria. It is important to note that its' disinfecting power is complete within 10 minutes, eliminating the opportunity for spores to form. This product has proven capabilities to stop these germs in their tracks, before they can spread, and its residual properties continue to stand guard against re-contamination. It is non-toxic, environmentally friendly and efficacious in its application. Many other disinfecting products cannot make this claim. The EPA registered NOK OUT™ label of June, 2013, lists the germs that this product eradicates.
About Grime Busters:
Created in 2007, Grime Busters is a distributor of Amazing! NOK OUT™ – a hospital grade, broad spectrum disinfectant and deodorizer. Grime Busters products remove malicious germs by the process of oxidation. To find out what Grime Busters can do for you, visit nokout.us.