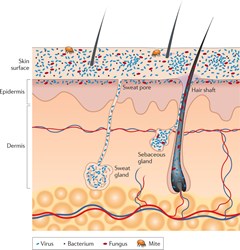 Gaylord, MI (PRWEB) February 20, 2014
The latest research on the MRSA skin disease, published by the American Society for Microbiology, holds important information for everyone who is trying to kill the germs that spread bacteria-related skin infections. The study suggests that the most common strain of methicillin-resistant staphylococcus aureus has acquired a number of genes from common skin bacteria that allow it to grow quickly and thrive on the skin. That theory would explain how MRSA spread so rapidly over the past 15 years.
Grime Busters, a distributor of the germ-fighting cleanser Amazing! NOK OUT™, is attempting to tackle the issue by getting to one source of the problem – odor- causing germs like the kind that thrive in sports arenas. As many athletes know, there is nothing quite comparable to the smell of a hockey locker room after a practice or game. However, as offensive as the odor is, it is often the warning whistle for bacteria-related skin infections such as MRSA. But sports managers are discovering that Amazing! NOK OUT™ eliminates the odor and the health hazard.
As Tom Campbell, manager at Munn Ice Arena at Michigan State University, explains, sports equipment odor can be a long-standing problem. "Everyone in this business knows the bad smells that are associated with hockey players' equipment, locker rooms and all related areas. It is an odor that is like no other," says Campbell.
In his search for a solution, Campbell came across several products that only masked odors. But he knew he needed a product that eliminated the source of the problem – bacteria. He says he finally found what he was looking for when he discovered Amazing! NOK OUT™. "We now have Amazing! NOK OUT™ and a misting system on a timer that treats our locker room spaces. We get compliments all the time about the clean smell in our locker rooms, so I have a lot of confidence in that product for odor control and its bacteria-killing qualities," says Campbell.
Sweat gets the blame for odors and germs, but the role of bacteria is actually at the heart of the issue. Playing hockey activates the sweat glands. But the fluid produced by these sweat glands is odorless until it comes into contact with skin bacteria. Bacteria found naturally on the skins surface begin breaking down the protein and fatty acids in the sweat. It is the bacterial breakdown that causes the unpleasant smell and the health hazard.
Amazing! NOK OUT™ is EPA registered and lab tested to destroy these gram-positive bacteria. It is important to note that its' disinfecting power is complete within 10 minutes, eliminating the opportunity for spores to form. This product has proven capabilities to stop these germs in their tracks, before they can spread, and its residual properties continue to stand guard against re-contamination. It is non-toxic, environmentally friendly and efficacious in its application. Many other disinfecting products cannot make this claim. The EPA registered NOK OUT™ label of June, 2013, lists the germs that this product eradicates.
About Grime Busters: Created in 2007, Grime Busters is a distributor of Amazing! NOK OUT™ – a hospital grade, broad spectrum disinfectant and deodorizer. Grime Busters products remove malicious germs by the process of oxidation. To find out what Grime Busters can do for you, visit nokout.us.