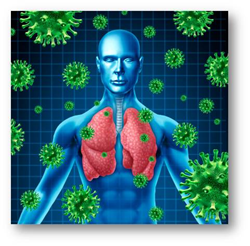 Buildings breathe through their HVAC systems. If these systems are compromised by mold spores, no amount of surface cleaning will solve the problem.
Gaylord, MI (PRWEB) March 11, 2014
The latest studies show that mold is more prevalent today because of the focus on improving energy efficiency. This focus, according to Responsible Solutions to Mold Coalition, has resulted in more airtight homes that don't breathe as well as older structures and more complex home designs that have increased the potential for moisture intrusion.
Unfortunately, mold spores are very small microns and become airborne easily. They produce allergens (substances that can cause allergic reactions), irritants, and, in some cases, potentially toxic substances or chemicals. Inhaling or touching mold or mold spores may cause allergic reactions in sensitive individuals. The problem, according to the Health and Safety Executive (HSE), affects between 30 and 50 per cent of new or refurbished buildings.
Buildings breathe through their heating, ventilation, and air conditioning systems, or HVAC. If the system is compromised by mold spores, no amount of surface cleaning will solve the problem. Occupants reveal their reaction to sick buildings by reporting odors and experiencing a variety of symptoms including headaches, difficulty breathing, skin irritation, allergic reactions, and aggravated asthma symptoms.
In order to get the sick buildings well again they must be treated with a mold remediation product – preferably one that is simple to apply, effective, and non-toxic. The prescription Grime Busters recommends for mold remediation is Amazing! NOK OUT™ which is lab tested for use as a biocide or a product that kills living fungal organisms.
Prior to disinfecting the HVAC system, Grime Busters recommends checking for any visible areas of contamination and completing a pre-cleaning protocol (see the NOK OUT™ label for detailed instructions) by fogging the air of each room where the contamination existed. Grime Busters has simplified the process of mold remediation with these 7 easy steps.
Apply a light application of NOK OUT™ to the following areas:
1. Each return intake grille in your home
2. The base of the return at the furnace connection
3. Each room vent allowing for light, but complete moistening
4. The filter of the HVAC system - moisten thoroughly BUT do not saturate
NEXT:
5. Turn off the HVAC system for approximately 10 minutes to allow the filter to dry
6. Turn ventilation system to 'On' position rather than 'Auto' and run continuously for 10 hours
7. Go outside and breathe some "fresh air". Return and do a "sniff test" in each room. If odors are not completely gone, reapply NOK OUT™ to sites where odors or contamination began.
Amazing! NOK OUT™ is EPA registered and lab tested to destroy these fungal organisms. Killing of the test organism in 10 out of 10 trials is presumptive evidence of disinfecting action. After 10 minutes of exposure to the product, all challenge organisms were killed in 10 out of 10 trials. It is non-toxic, environmentally friendly and efficacious in its application. Many other disinfecting products cannot make this claim.
About Grime Busters: Created in 2007, Grime Busters is a distributor of Amazing! NOK OUT™ – a hospital grade, broad spectrum disinfectant and deodorizer. Grime Busters products remove malicious germs by the process of oxidation. To find out what Grime Busters can do for you, visit nokout.us.