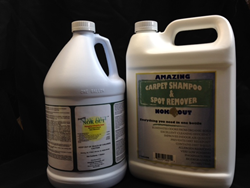 NOK OUT is more than simply a solution of chlorine dioxide; it is more aptly defined as an odor elimination and disinfectant system.
Gaylord, MI (PRWEB) March 31, 2014
Grime Busters continues its quest to educate the public and eradicate malicious, odor causing germs by focusing on the home, as well as spring cleaning and clean breathing protocols. The company is urging consumers to recognize the difference between truly clean air and air that has been sprayed with odor-masking fragrances.
What is a "breath of fresh air"? Is it clean air and the absence of odor causing germs, or can it be contained in a spray can, candle, solids, or fragrance diffusers? There are multitudes of air freshening products on the market today. Many purport to kill 99+% of germs, while ridding the environment of noxious odors, and adding a wonderful, enjoyable fragrance.
The Swedish Society for Nature Conservation lists examples of compounds and fragrances used by manufacturers of so-called cleaning products to produce these synthetic smells. More than 95 percent of the chemicals in synthetic fragrances are derived from petrochemicals. These chemicals include derivatives from benzene, ethyl, hexene, and a host of other known toxins that are capable of causing cancer, birth defects, nervous-system disorders and allergies such as asthma.
Indoor environments can trigger asthma attacks.
Known irritants are strong smells such as cleaning products or perfumes. As someone takes a deep breath of "clean air", they are breathing in these toxic substances. When the airways in the lungs are affected, it can bring on symptoms of asthma (like coughing, wheezing, or difficulty breathing). The body remembers this reaction. Each time the allergen comes into contact with the body, the same thing can happen. Because of that, allergies can make it difficult for some people to keep their asthma under control.
Grime Busters believes the cleaner solution involves using a product such as Amazing! NOK OUT® which has a proven ability to eliminate odors by killing the germs, leaving nothing behind but the smell of fresh air.
NOK OUT®'s product list is short and effective – hospital grade broad spectrum disinfectant, odor eliminator, carpet and pet shampoo. Its active ingredient of chlorine dioxide is non-toxic to animals, people and the environment, while effectively cleaning and disinfecting the total home - from kitchen, to bathroom, to carpets, upholstery and pets. It is "clean-breathing" at its best. When used to clean and disinfect it doesn't just mask the smell, it eliminates the odor-causing germs.
About Grime Busters:
Created in 2007, Grime Busters is a distributor of Amazing! NOK OUT – a hospital grade, broad spectrum disinfectant and deodorizer. Grime Busters products remove malicious germs by the process of oxidation. To find out what Grime Busters can do for you, visit nokout.us.