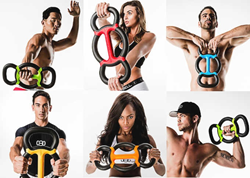 I'm just a regular guy, not a pro athlete or dietitian, who wanted an easier way to get the results I longed for.
Pleasanton, California (PRWEB) April 01, 2016
Gripbell is a new tool that is designed to enhance workouts, get people past their plateaus and make changes people will notice. Previously one of the most backed fitness projects on Kickstarter raising over $350,000, Gripbell is now on Indiegogo's InDemand platform to continue accepting pre-orders in time for summer workouts to begin.
Typically, workout rooms have a clutter of dumbbells, free weights, bands, kettlebells and more. However, with Gripbell, all one needs to get the results they desire in minimal time is one Gripbell weight. Designed for everyone from professional athletes to those just being introduced into fitness, Gripbell fits with every type of workout imaginable.
"When I was trying to lose weight, I had trouble finding the right machines and tools that fit my needs," said Mark Wood, Gripbell Founder and CEO. "I'm just a regular guy, not a pro athlete or dietitian, who wanted an easier way to get the results I longed for. Sure, dumbbells and free weights work, but switching between the two, with an uneven weight distribution, wasn't how I wanted to spend my time."
Gripbell allows you to challenge every part of the body with one weight. Often used for more than just weight lifting, Gripbell is the only weight system that can easily be combined with yoga, dance, Pilates or cardio. While Gripbell can be used in place of a dumbbell or kettlebell, Gripbell is the only tool that has a dynamic stimulating burn factor that is multiplied several times as you workout.
Gripbell is constructed so there is no direct contact with metal or hard materials anywhere on the weight. This is to ensure the safety of the user in the off chance the weight slips out of their hands. Gripbell is also evenly balanced and extremely portable to fit in a suitcase or backpack easily.
Gripbell comes in 3, 5, 8, 10 and 12-pound options. There is also an included 30-minute workout video to provide the user with an intense workout with specific Gripbell movements. Currently, backers can pre-order a 10-pound Gripbell set starting at $79, which is 39% off the future retail price. For more information or to pre-order Gripbell, please visit http://bit.ly/Gripbell_IGG.
About Gripbell
Established in 2015, Gripbell seeks to enhance workouts and help users see more results. Gripbell is an innovative versatile workout equipment that delivers far more workouts and functions than meets the eye. To learn more about Gripbell, please visit http://www.gripbell.com.