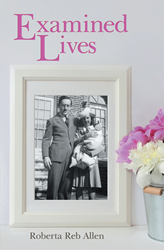 "I am also acutely aware of the stigma attached to mental illness and want to pull the curtain back and provide a no-holds-barred look." - Roberta Reb Allen
CHICAGO (PRWEB) October 01, 2018
Author Roberta Reb Allen's mother, Gretchen Richard, was a vivacious, competent woman who had a thriving career in the hospitality industry in the 1930's and 1940's while working for prestigious venues such as the Camellia House of the Drake Hotel and eventually becoming a wife and mother. However, in 1950, she was misdiagnosed as a paranoid schizophrenic by Dr. Walter Freeman, an infamous physician known for being the top-performing lobotomist in America. Within a few short days he performed a transorbital lobotomy on Allen's mother thus robbing her of her drive and sparkle forever and subsequently leading to Allen's own battle with depression.
Allen provides a poignant and thought-provoking examination of the impact improper diagnosis and treatment of mental illness has not only on the patient, but also on their loved ones in her riveting new memoir, "Examined Lives," which details her own journey as intertwined with her mother's life.
"After suffering two major depressions, I felt it was time to make sense of my childhood and do the necessary spade work to determine what had actually happened in those years," said Allen. "I am also acutely aware of the stigma attached to mental illness and want to pull the curtain back and provide a no-holds-barred look."
With a background as a historian, Allen scoured through an abundance of family documentation such as letters, diaries and photographs as well as extant medical records from Dr. Freeman's files and the facility where her mother had been institutionalized after the lobotomy. Allen provides commentary on the events that led to her mother's procedure and an intimate look into her and her mother's lives post procedure in hopes that, by shedding light on the effects of the lobotomy, more people will be aware of the importance of proper treatment and diagnosis of mental illness while also providing a long-awaited voice to the female patient whose lobotomy was completely unnecessary. To learn more please visit http://www.examinedlives.net.
"Examined Lives"
By Roberta Reb Allen
ISBN: 978-1-4808-6319-4 (hc), 978-1-4808-6320-0 (sc), 978-1-4808-6321-7 (e)
Available through Amazon, Barnes & Noble and the Women and Children First bookstore in Chicago
About the Author
Roberta Reb Allen graduated from the University of Chicago with a B.A. and M.A. in history. Spending most of her professional career as a curriculum writer, authoring and editing works on a variety of topics, she is now retired and devotes her time to writing about individuals, ordinary and extraordinary, whose lives illuminated the world in which they lived. Allen resides in Chicago where she is an Associate Member of the Independent Writers of Chicago and an advocate for ending the stigma attached to mental illness.
For interview requests & review copies contact:
LAVIDGE – Phoenix
Lauren Dickerson
ldickerson@lavidge.com
480-998-2600 x601