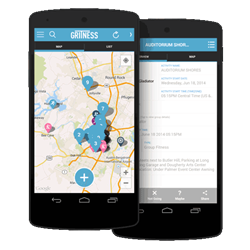 CrossFit Central is excited to use Gritness to reach out to the Austin community about our classes, events and competition. We now have another great way to reach those interested in CrossFit and welcome them to the CC community. -Crossfit Central
Austin, TX (PRWEB) September 03, 2014
Gritness is expanding their newly launched Founders Business Offering from Austin, Texas and going nationwide. For the past few months, Gritness has been enabling businesses in Austin (one of the fastest growing cities in the U.S.) to sign up for a group fitness listing feature which helps serve as a great lead generation tool and serve as a "yellow pages" for fitness enthusiasts. In addition, the service also provides group fitness businesses with back office management tools like payment processing and group class administration as part of the monthly fee.
Gritness is offering the service for a Founders Offering price of $10/month. Four leading Austin fitness businesses have already signed up, including Crossfit Central, Castle Hill Fitness, RunLab, and Coach Mo's Elite Fitness. CrossFit Central, http://www.centralathlete.com, one of the biggest CrossFit names in America and one of the top 50 affiliates in the World, partnered with Gritness this summer and is already raving about the service.
How Gritness Works
Gritness is based on a social platform that helps you find group fitness activities ranging from cycling, to running, yoga, and everything in between. Available for iOS and Android, Gritness connects people, and sparks motivation by helping users find and create group fitness activities.
At its very core, Gritness aims to be the home for group fitness activities all over the world. Individuals and business owners alike can create an account for free and have access to everything Gritness has to offer.
Gritness allows users to both create and join group activities in their area. Whether someone is working out solo or looking for people to join, or trying to find like-minded people to help with fitness goals, Gritness helps anyone do it all.
Fitness seekers can use Gritness' local map to check out all nearby activities and find something that sounds right for anyone's level of fitness. Gritness is a global app, so for those who travel, check the local area for people to work out with or post their workout plan for the locals to join.
About Gritness
Gritness (Gritness.com) launched in Austin, Texas in June of 2013 by co-founders and avid cyclists, Jason Whitson and Tommy Fad. Whitson and Fad's vision is to ignite group fitness by creating a digital resource that allows members of the fitness community to discover, organize and create fitness events. Today, Gritness hosts thousands of group and event listings helping organize fit lifestyles by focusing on an underserved area of digital fitness, pre-activity tasks and coordination. To learn more about Gritness and create a free account, visit http://www.gritness.com.