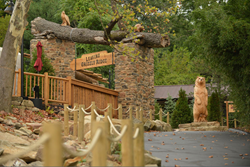 Reduced energy costs, lower costs for utilities such as water and sewer, maintenance of the local ecosystem, and a healthier atmosphere for animals—as well as employees and visitors—are among the many benefits the zoo has seen and will continue to see.
Akron, Ohio (PRWEB) April 29, 2014
The U.S. Green Building Council (USGBC) has awarded the Akron Zoo's Mike & Mary Stark Grizzly Ridge exhibit the Leadership in Energy and Environmental Design (LEED) Silver certification, reinforcing the zoo's commitment to conservation and sustainability.
Designed by Hasenstab Architects, the Grizzly Ridge exhibit, which includes habitats for grizzly bears, otters, wolves, coyotes, eagles and other native birds, was built with sustainability in mind. The project features a green roof on the bear exhibit, a bio-retention basin, a pool water recycling system, reuse of plants and rock excavated from the existing site and many other sustainable features that further the zoo's mission of conservation of not only wildlife, but of all natural resources.
Incorporating sustainable design elements into the project was only part of the process; getting LEED certification for this type of project was much more difficult, explained Scott Lukens, AIA, LEED AP, project architect for Hasenstab Architects. According to Lukens, the LEED certification process is generally set up to evaluate buildings that are inhabited by people, not animals, so many of the LEED guidelines are not applicable for animal structures.
"Essentially, there is no LEED baseline for certifying bear and otter buildings," said Lukens. "Because of the buildings' unique features, many of the LEED guidelines were not specifically created for these types of structures."
After exploring several different scenarios, the bear and otter buildings were certified as a "block project." This approach allowed the project team to apply most of the LEED credits to the project as a campus with only a few credits having to be attributed to the individual buildings. This holistic approach to LEED certification allows for synchronized documentation and the ability to certify "unusual" projects such as Grizzly Ridge.
While LEED certification is not required, Doug Piekarz, vice president of planning and conservation at the Akron Zoo, explained that sustainability and conservation are the foundation of his organization's mission.
"…sustainability is one of our conservations goals, and the annual cost savings related to energy efficiency further support the zoo's goal of being good stewards of tax payer money, which is essentially verified with third party certification," said Piekarz.
Challenges and certifications aside, the benefits of incorporating sustainable features into Grizzly Ridge are innumerable.
"Reduced energy costs, lower costs for utilities such as water and sewer, maintenance of the local ecosystem, and a healthier atmosphere for animals—as well as employees and visitors— are among the many benefits the zoo has seen and will continue to see," said Lukens. "This whole process sends a message to the public that [the Akron Zoo] cares about the community, the environment and, of course, the animals that live there."
About Hasenstab Architects
Since 1982, Hasenstab Architects has provided professional design services for the healthcare, educational, science/technology, and commercial industries in Northeast Ohio. Past projects include Akron Zoo's Conservation Carousel and Farmland exhibit, The University of Akron's National Polymer Innovation Center, the National Inventor's Hall of Fame STEM School, Akron Children's Hospital Critical Care Tower, and the Summa Health System's Jean B. and Milton N. Cooper Cancer Center. http://www.hasenstabinc.com