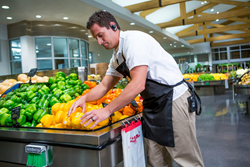 Shoppers trying to locate items or confirm prices need quick answers. Those faster responses make for happier customers, as well as more knowledgeable, confident, and productive employees.
Dallas, TX (PRWEB) February 27, 2014
BearCom, a nationwide provider of wireless communications equipment and solutions, today detailed for grocery chains how they can accomplish several goals vital to their business success by equipping their employees with two-way radios.
"The concept of customer experience isn't often equated with grocery shopping, but a happy customer certainly is much more inclined to return to a given store," said Hugh Johnston, Product & Purchasing Manager at BearCom. "Shoppers trying to locate items or confirm prices need quick answers. Using portable two-way radios, store employees can get help from managers and colleagues. Those faster responses make for happier customers, as well as more knowledgeable, confident, and productive employees."
Johnston noted that the grocery industry has embraced a host of new technologies, from automated scanners and inventory control systems to improved point-of-sale systems. However, managers still waste time walking the length of a store to ask questions or provide answers. Grocery store employees continue to communicate using intercom and closed-loop telephone systems.
As many a shopper knows, a checkout lane price check using an intercom can mean a frustratingly long wait for everyone in line. And while these are the most audible calls for assistance in a grocery setting, they are far from the only ones. Employees need to communicate about operational issues, suspicious activity, hazards such as wet floors and broken glass, and even lost child alerts and medical emergencies. Most of these scenarios call for discretion and instant one-to-many communication capabilities not available through intercoms or phones.
"Grocery organizations that want to install or improve their two-way radio systems are looking for equipment that is easy to manage and easy to use," said Johnston. "They want radios that are rugged, with long battery life, crisp audio quality, and good coverage."
Johnston recommended they consider several radios from Motorola Solutions, such as the Motorola CLS1110 and Motorola CLS1410, as well as the CLP Series, which includes the Motorola CLP1010, Motorola CLP1040, and Motorola CLP1060.
The Motorola CLS Series two-way radios are compact, lightweight, and compatible with a variety of accessories. They also are affordable, which lets stores purchase larger fleets at lower costs. Simplified charging and cloning make CLS radios easy to manage, and they are so simple to use that little or no training is required.
Motorola CLP Series radios are even smaller and lighter. Their design integrates an earpiece, which makes for even more discreet communications. The CLP1010, CLP1040, and CLP1060 are very easy to use, as they integrate only the essential elements. And, for larger stores, CLP radios can be integrated with repeaters to further improve their range.
Keeping a grocery operation running smoothly takes everyone working at maximum efficiency to create a customer experience that is noticeably superior to those of competing organizations. Two-way radios are instrumental in reaching both of those goals, and they help grocers prevent costly accidents. "Many people don't realize that the average slip/fall incident costs a grocery business tens of thousands of dollars," Johnston said. "If radios can prevent just one, they've paid for themselves, and customers and employees are safer."
For more information about Motorola CLS and CLP Series two-way radios for grocery stores, please visit http://www.BearCom.com or call 800.527.1670.
About BearCom
BearCom provides a broad line of high-performance wireless communications products, services, and complete mobility solutions. Founded in 1981, BearCom is America's only nationwide dealer and integrator of wireless communications equipment, serves customers from 26 branch offices located throughout the U.S., has several affiliated offices around the world, and employs approximately 400 people. BearCom is headquartered in the Dallas, Texas area. For more information, visit http://www.BearCom.com.
MOTOROLA, MOTO, MOTOROLA SOLUTIONS and the Stylized M Logo are trademarks or registered trademarks of Motorola Trademark Holdings, LLC and are used under license. All other trademarks are the property of their respective owners. ©2014 Motorola Solutions, Inc. All rights reserved.