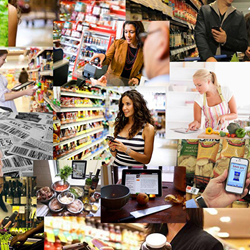 People respond best ... when they are actually shopping for your product
New York, NY (PRWEB) May 01, 2014
The Purchase Decision Network (PDN) announced the Android and iOS market-leading apps Out of Milk and Buy Me a Pie! have joined Shopper as founding members of the first exclusively shopping-centric network of apps and sites. The grocery network soft-launched in Q1 and is live for ad campaigns as of April 1, 2014.
PDN now powers 10MM shopping trips by 2MM shoppers monthly across the different shopping experiences provided by its publishing partners. Sean Flynn, CEO of PDN said: "As a brand, you have a lot of options from behavioral targeting to RTB. We are a premium ad opportunity based on the simple idea that people respond best to your message when they are actually shopping for your product, something we've proved in dozens of test campaigns for P&G and Nestle over the past several years."
To advertisers, PDN provides a consistent set of ad opportunities across its publishing partners and advanced features like loyalty targeting and campaign re-targeting. Reporting includes standard measures like impressions and clicks as well as a unique conversion metric based on the rate at which shoppers add items to and keep items on their lists post-exposure.
Mr. Flynn expects the network to grow rapidly into all of the top tier independent shopping apps and sites. "Publisher interest is overwhelming. Its been great to find other publishers are struggling with the same issues and realize that all we need to do is present ourselves together and really the proposition is both unique and incredibly efficient and effective."
Marvin Paul, Founder, Out of Milk/Capigami says "The guys at PDN are great to work with and got us live with our first campaigns very quickly. The whole integration was just a few hours and integration with our content for optimal targeting was very straight-forward."
Brands and publishers can reach Sean at the contact info below to discuss further details of the study.
About The Purchase Decision Network
The Purchase Decision Network (New York) has powered planning and in-store shopping experiences since 2008 and today mediates over 10MM shopping trips a month. PDN apps save time, money and effort on everyday shopping and share lists, recipes, tips and savings with friends and family.
Contacts
Sean Flynn, CEO
The Purchase Decision Network
http://www.pdnmedia.com
(888) 816-8125
pr(at)pdnmedia(dot)com