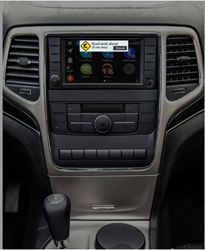 GROM aims to create innovative products for cars to provide latest in car connectivity and safe driving experience for drivers.
Belmont, CA (PRWEB) October 12, 2017
Auto Tech R&D Summit was held in San Jose, California during Columbus Day weekend on October 9 and 10. This summit included speakers from Nissan, Toyota, Renault, Nokia, InMotion Ventures, and Panasonic Automotive Systems Company of America to name a few. Over 200 attendees made their appearance including Tesla, Apple, BMW, Polaris, General Motors, and Nexar.
GROM was proud to be a part such a dynamic conference. Spokesperson commented, "It was a great experience to participate in the Auto Tech R&D Summit this year. We displayed a prototype of GROM.AI to showcase the main functions of our system." He further added, "GROM aims to create many more innovative products for cars to provide latest in car connectivity and safe driving experience for drivers."
GROM Automotive Infosystem (also known as GROM.AI) provides the fullest integration between the driver experience and what is happening in the surrounding environment as well as within the vehicle. This includes real-time updates on infrastructure - cloud, infrastructure, and other vehicles, as well as ADAS -- LIDAR, on-board diagnostics, car camera, and car sensors.
GROM.AI brings together both hardware (VLine Infotainment System) and software (highly adaptable Android based user interface) as the foundation for a connected car experience for the next level of infotainment, V2V and V2X communication.
The wave of the future is now with GROM.AI in the first in industry ever release of R&D technology that brings infrastructure communication and in-car communication together.
GROM.AI is powered by the hardware of GROM's own infotainment system - VLineTM. VLine is the hardware device that enhances factory infotainment systems by providing the latest mobile tech right on the car stereo screen. Once VLine is installed, the users get the access to the latest maps and navigation, music streaming apps and voice command recognition - all seamlessly integrated with their stereos. The device provides smartphone like UI experience similar to CarPlay and Android Auto to the vehicles that are on the road.
GROM.AI also builds upon the software technology of its stand-alone car mode dashboard app - DashlinqTM. The technology behind this app provides the user to access their favorite apps in one place. Not only so, it allows for voice commands as well as Bluetooth connectivity to work simultaneously.
GROM is a Silicon Valley-based automotive electronics company with a focus on infotainment, connected car and audio integration solutions. The company has a long history of developing, designing, and manufacturing aftermarket car audio interfaces to update obsolete stereo systems. With a passion for technology and drive for innovation, GROM Audio continues to bridge the outdated vehicle infotainment systems with the modern mobile technology. More information about VLine, the latest connected dashboard system, is available at https://gromaudio.com/vline/