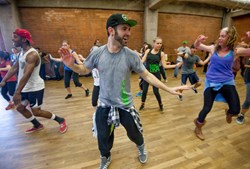 This is one hour where you will leave your stress at the door and dance like a superstar!
Los Angeles, CA (PRWEB) February 07, 2014
GROOV3, the "feel-good dance party" workout with a live DJ, is on a mission "to inspire change and build a global community through the power of dance." The movement will be heating things up in St. Louis this month.
5 local dance and fitness professionals were hand picked to be the first certified instructors in St. Louis. While there are many dance fitness trends in the area, GROOV3 promises to bring a jolt of pure joy and happiness to participants. A little sunshine when skies are grey.
GROOV3 was designed for 3 types of people: Those who love to DANCE, those who want to SWEAT, and those who want to LIVE a happier, healthier life. It's a high-octane, Hip Hop-inspired cardio dance workout, that feels like an off-the-hook DJ-fueled celebration for the body and soul (raucous applauding and high-fiving are the norm), so students get a killer workout that burns some 600-800 calories without feeling like they're "working out."
"We are building communities of people who love to dance because it's fun, and because dancing a routine to energizing music ignites a spark in all of us that creates more passion, more energy and a sense of belonging and wellbeing," says Celebrity choreographer and founder, Benjamin Allen. "Everybody needs to dance!"
"GROOV3 has not only motivated me to get back into shape," said student Gyron Julius R. Makasiar, a special events manager in Los Angeles, "but it has also re-ignited my love of Hip Hop dancing and the arts. It's like a huge void in my life is filled every time I am in class!"
If you're looking for a change to your regular workout or simply looking for a community to connect with, this DJ dance party is a must on your "to do" list. Join the GROOV3MENT and see why SpaFinder Wellness has named GROOV3 one of the top fitness trends of 2014.
New Locations and Launch Dates. All intro classes are $5.
Flavor
Tuesday February 18th 7:00 - 8:00p.m.
5860 Delmar Suit 106
St. Louis, MO 63112
Central Studio
Wednesday February 19th 6:30 - 7:30p.m.
5617 Pershing Ave
St Louis, MO 63112
DK Dance
Wednesday February 19th 7:30 - 8:30p.m.
11 Patterson Rd,
Florissant, MO 63031
Fitness Fuzion
Saturday February 22nd 11:30 - 12:30p.m.
925 Hwy K,
O'Fallon, MO 63366