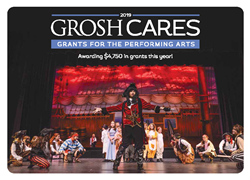 "All schools, theaters and dance companies are invited to apply."
HOLLYWOOD, Calif. (PRWEB) February 25, 2019
Hollywood-based Grosh, well known for its large stage and theater backdrops, drapery and projections, will award three grants this year, said Amanda Uhlein, Grosh Backdrops & Drapery president. "All schools, theaters and dance companies are invited to apply."
The inaugural Grosh Cares grants will total nearly $5,000. The grand prize winner will receive a $2,000 cash award, plus a $500 credit towards hand painted or projected backdrop rentals. The runner up will receive a grant of $1,500 and third place will get $750.
To enter, just fill out the simple online form located at https://www.grosh.com/grosh-cares-grant/.
Submit a minimum of three images or video showing your use of scenery in your performances or recitals, and include two-to-three paragraphs about your goals and how you hope to use your grant funds. All entries are due by midnight May 1, 2019.
"Have fun showcasing your students and your special creativity in using all forms of scenery, lighting and backgrounds," said Uhlein. "When we announce the winners on September 12, we will explain what qualities made them the best of the best. The criteria are creativity, visual impact, and how the funds will make a difference."
After the grant awards are announced, "Grosh Cares" will reach out to all of the applicants who are not selected to clarify any questions or concerns.
"We have some fun ideas for 'consolation prizes,' but, we don't want to spoil the surprise just yet," said Uhlein.
Grosh, she added, plans to learn from the inaugural "Grosh Cares" program and improve upon it in the future.
"For instance, we have already talked about announcing the 2020 Grosh Cares program earlier in the season (September), and awarding the grants sooner (January or February) to better fit with the performance timing of schools and many of our other customers," Uhlein said.
Since 1932, Grosh has a tradition of providing financial and in-kind support to its colleagues and customers in schools, theater and dance. The "Grosh Cares" program came about as a result of a long trip home from a state high school choir competition. The Grosh sales manager was driving back with a few members of the choir including her daughter and teacher. Uhlein said they were excited they advanced to the national level. Then they began to worry about how to raise money so the choir could attend the out-of-state competition.
"This just reminded us of the critical need for fund raising, and our passion and commitment to be a 'go-to' provider for the performing arts," said Uhlein. "So, we started cooking up 'Grosh Cares.'"
Grosh Backdrops & Drapery is among Hollywood's longest supporting partners. Grosh provides the highest quality themed and theatrically produced hand-painted and digital backdrops for professional stage productions, dance recitals, school performances or corporate parties. Grosh also offers an excellent drapery selection including rain curtains, Austrian puffs and velour drapery panels. You can visit http://www.GROSH.com or http://www.GROSHDIGITAL.com to see the full line of products and services.
You can also contact Shawn Glaspell at the Spencer Lewis Marketing Group at 909.945.5247. http://www.spencerlewis.com/