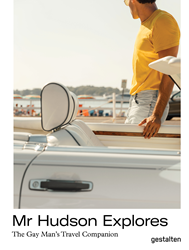 "The LGBTQ community hold passports at more than double the rate of the rest of the population. And we are striking out farther and wider than ever before." —Bastiaan Ellen, Mr Hudson Co-Founder and CEO
NEW YORK (PRWEB) June 26, 2019
Pioneering gay men's travel site Mr Hudson is proud to announce the release of its new book, 'Mr Hudson Explores: The Gay Man's Travel Companion.' Instead of focusing on saunas, cruising, and bars like most gay travel content, the book's premise is that not all gay men want a 'gay holiday.'
Published by famed international design publisher gestalten, the meticulously crafted book curates 20 international urban destinations for gays, but not necessarily gay destinations. The book's guiding principle is that many queer travelers are discerning voyagers who like to explore in style.
The exceptional experiences cut across culture and art, traditional and up-and-coming food places, boutique shopping, hotels, music, and nightlife. First-person interviews of gay influencers in the gay city guides contextualize and personalize the material. The book's 300 vibrant pages are filled with the beautiful, authentic, and diverse places gay travelers seek out—often ahead of the crowds.
Where gay travelers in the not-so-distant past were limited to a handful of safe and welcoming destinations, they are now more ambitious and adventurous than ever in their travel. The swiftly shifting dynamics of queer travel are on full display in the book, which goes way beyond run-of-the-mill gay travel guides.
"The time is ripe to launch this book. As more and more countries begin to recognize same-sex relationships, travel has become decidedly more accessible for gay people, and in some places is actively encouraged," said Mr Hudson Co-Founder and CEO Bastiaan Ellen, who started Mr Hudson with his husband, David. "The LGBTQ community hold passports at more than double the rate the rest of the US population. And we are striking out farther and wider than ever before."
To download the press pack for the Mr Hudson Explores book, which hits bookshelves on June 26, 2019, click here.
Cities in the US and Canada in the book are New York, Chicago, Los Angeles, Portland, Oregon, San Francisco, and Vancouver, British Columbia. International cities are Amsterdam, Berlin, Brussels, Lisbon, London, Madrid, Mexico City, Paris, Rome, Shanghai, Stockholm, Tel Aviv, Tokyo, and Vienna.
Advance Praise for Mr Hudson Explores
"... showcases the best each destination has to offer in culture, food, shopping, nightlife and more."

About Mr Hudson
Mr Hudson is a pioneering travel site for discerning gay men. It offers curated guides for carefully selected global destinations, backed-up by in-depth features.
About Mr Hudson Co-Founder and CEO Bastiaan Ellen
Bastiaan Ellen is a seasoned travel and e-commerce marketing expert for over two decades, who has held senior international positions at Expedia, Thomas Cook, and eBay. Frustrated with the lack of relevant quality travel content for gay men he co-founded Mr Hudson in 2016 with his husband, David.
About gestalten
gestalten continues to actively reimagine the way in which we approach publishing. With our extensive range of titles, we not only seek to enhance and to enrich our reader's lives but to continually engage with the surrounding creative landscape. Our origin story began with a focus on the aesthetic, particularly that of graphic design and, over the last two decades, the scope of both our content and our expertise has widened. Today, using a myriad of observations of culture, people, art, and other intimate inspirational informants, we document and anticipate vital movements in architecture, visual culture, design & fashion, escapism, food & beverages, travel, and contemporary art.
Contact
Mr Hudson
For further information, high res images, or to interview Mr Hudson Founder Bastiaan Ellen please contact Suzi Siegel, Chief Marketing Officer at suzi(at)mrhudsonexplores(dot)com or +1-646-410-7929.
gestalten
For advance reading copies of the book, Mr Hudson Explores: The Gay Man's Travel Companion, contact Tatiana Michaelis, PR Manager International at t.michaelis(at)gestalten(dot)com or +49-30-72-61-32-203.