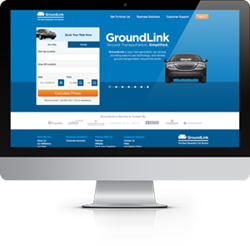 The newly designed GroundLink.com shows our continued commitment to transforming the ground transportation industry for the traveler and travel arrangers with leading technology.
New York, NY (PRWEB) February 19, 2014
GroundLink, the next generation car service that continues to transform the ground transportation industry with technology, is proud to announce the launch of its brand new redesigned website, GroundLink.com. Designed with both the traveler and travel arranger in mind, the new GroundLink.com offers a seamless booking process for all travelers and when relevant a central dashboard for travel arrangers to manage their ground transportation program.
For the traveler, GroundLink.com offers an even easier navigation to its ecommerce site. The new design allows for a further evolved seamless booking process. By entering one's ride details, selecting from one of GroundLink's vehicle options and entering one's payment information, travelers are able to book rides in advance for cities worldwide.
Additionally, travelers are now able to customize and adjust their pick-up times when they book an airport pickup ride. One of the features that GroundLink travelers currently appreciate is having their flights tracked and their pickup times automatically adjusted based on when their flight arrives, thereby avoiding unnecessary wait time fees. In addition to the current flight tracking, the 30 minute complimentary grace period for domestic flights (and 60 minute grace period for international flights), GroundLink's new site allows travelers the ability to adjust when they want to be picked up; whether right after their flight lands or up to two hours after their flight lands. This new flexibility allows travelers to attend meetings or dinners post-flight at the airport, or take a little extra time to gather their bags or make a call and avoid any late fees.
For the travel arranger, the new GroundLink.com provides a complete set of tools designed to help travel arrangers track and manage their ground spend and their riders. Leveraging a web-based central dashboard, GroundLink.com provides account administrators the ability to track all ground travel activity including upcoming and completed rides, a breakdown of the account's top passengers and the account's overall ground transportation spend. With the dashboard, travel arrangers are able to ensure their travelers are taken care of without any frantic calls, and gain insight into this previously hard to manage travel spend category.
"The newly designed GroundLink.com shows our continued commitment to transforming the ground transportation industry for the traveler and travel arrangers with leading technology," said GroundLink CEO Dean Sivley. "Combined with our best-in-class operations, our guaranteed on-time pickup policy, our availability worldwide and our technology integration, GroundLink.com is just one more way GroundLink is making private ground transportation easy and transparent."
GroundLink's website is just one of three tools that customers can use in order to book a car. With GroundLink, users can book via website, phone or with a few taps on a smart phone via GroundLink's award winning mobile app.
For more information about GroundLink or to arrange an interview with Dean Sivley, CEO of GroundLink, please contact Jill Solomon at jsolomon(at)groundlink(dot)com or 212-527-7428.
About GroundLink
GroundLink is the next generation car service that leverages a proprietary technology platform to provide seamless, reliable and consistent ground transportation for travelers worldwide. GroundLink was named as a finalist in the Golden Bridge Awards for Innovations in the Hospitality, Leisure, Recreation and Travel space in 2013 and the GroundLink mobile app was cited by USA Today as best in class in 2011. GroundLink was also awarded the ODIGEO Award for Travel Innovation and the Creative Alliance Award for Travel Innovation by leading travel industry firm, PhoCusWright. GroundLink has teams in North America and Europe with headquarters in New York, NY.