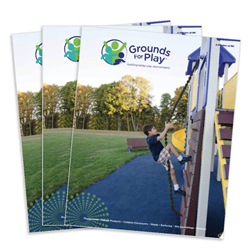 Carrollton, GA (PRWEB) February 17, 2017
Grounds For Play is excited to announce the release of the new 2017 Grounds For Play Catalog. The catalog features new site inspirations and products that support education, help children grow socially, physically, emotionally, and cognitively while meeting or exceeding the highest safety standards.
The new catalog features new products including new dramatic play vehicles and façades, Big Blue Blocks, and musical instruments.
View the new Grounds For Play catalog online here or request a printed catalog here!