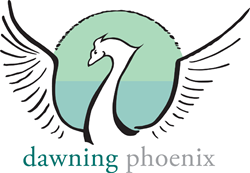 Life Will Always Go in the Direction of Your Most Predominant Thought
Gainesvile, Georgia (PRWEB) June 23, 2014
Dawning Phoenix offers accessible and affordable counseling services through a lower-cost model, while providing a high quality of care in individual, couples, family, and now... therapy group counseling (http://dawningphoenix.com/) settings.
Stress & Pain Management – ongoing, led by a licensed professional and master mediation coach. This group utilizes relaxation techniques and other strategies to reduce stress or pain. Ongoing, meets weekly, $40 per group.
*Contact Bert Levitt, MA, LPC for more information on their Stress & Pain Management Group
Anxiety Management – 12 sessions led by a trained counselor. This group focuses on techniques to manage and reduce anxiety and related symptoms. Meets weekly or bi-weekly, $25 per group.
Divorce Support – a process therapy group (http://dawningphoenix.com/) for individuals currently entering or experiencing the divorce process. Sessions are ongoing. $30 per group.
Divorce Support Recovery – 14 sessions utilizing the Transitions Resource RECOVER/DISCOVER model. This group is for individuals who have completed the legal process and have a final decree. $40 per group.
About Dawning Phoenix
With a move to United Osteoporosis Center in April 2014, located on busy Limestone Parkway in Gainesville, Dawning Phoenix hopes to serve more people in improving the quality of their lives.
Dawning Phoenix – a counseling & conflict resolution practice owned by Executive Director, Dawn M. Echols, M.S., LPC & Registered Mediator was established in 2012. Director Dawn M. Echols has worked in the counseling profession for the past 9 years. Dawning Phoenix has a staff of 3 counselors in 2 locations.
Tel. (678) 965-9591
Address: 2350 Limestone Parkway
Gainesville, Georgia 30501
Website: http://dawningphoenix.com