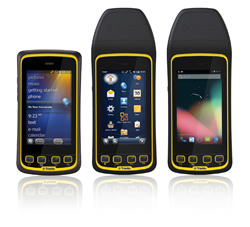 The bundle includes the essential accessories highly mobile workers need, as well as a free extended warranty, increasing the warranty period to four years.
Chandler, Arizona (PRWEB) October 21, 2014
Group Mobile, well known for carrying the top brands in rugged laptops, rugged tablet PCs, rugged SmartPhones, and rugged handheld computers is offering a limited-time exclusive Trimble Juno T41 bundle. Now through December 17, 2014, Group Mobile is offering a free 24-month extended warranty when customers purchase any Trimble Juno T41 model with an External Battery Pack and an Office Docking Station (a $487 value)!
"Group Mobile is pleased to present this Juno T41 bundle to our mobile computing customers," said executive vice president for Group Mobile, Stephanie Kreitner. "The bundle includes the essential accessories highly mobile workers need, as well as a free extended warranty, increasing the warranty period to four years."
The Juno T41 handheld computer offers a model for almost any workflow, in any kind of working condition. With options for best-in-class 1D/2D barcode imager or UHF RFID technology; 3G voice and data; and Enhanced GPS (1-2 meter reliable real-time acquisition) for quick satellite connection and work in heavy canopy situations, the Juno T41 is the right handheld for professionals who need a true productivity enhancer in the field! To learn more about the Trimble Juno T41 rugged handheld, visit http://www.groupmobile.com/product.asp/sku=6156.
Juno T41 Office Docking Station
The Juno T41 Office Docking Station provides an easy way to ensure the Juno T41 handheld computer is automatically recharged and ready for each work day. Featuring a fast and secure Ethernet connection, the Office Docking Station allows mobile workers to quickly synchronize field data with central office data servers. In addition, the Docking Station supports a USB client mode and DC power input. It also recharges a Juno T41 Extended Battery Pack connected to the unit or on its own.
External Battery Pack "Juice Pack"
The Juice Pack external battery provides nearly double the run-time between charge cycles. It is a dual-mode Juice Pack. This means the user can have it in the mode that allows the use of battery life of the Juice Pack, or put it in the mode as a mobile charger for the Juno, so it can charge the internal battery. When the Juice Pack is depleted, users can remove it and recharge it while continuing to use the Juno T41. Most users will find the Juice Pack is fully recharged and ready to use before the internal battery is fully discharged.
The Juice Pack has the same custom ports, so it will not interfere with the use of USB host/client or 9-pin serial data connections. The Juice Pack can recharge from the same International AC Charging Kit, Office Docking Station, or Vehicle Charging Kit used for the Juno T41.
Free 24-Month Extended Warranty
Increase the warranty coverage on the Juno T41 from the original 24 months to an additional 24 months (4 years total). This warranty covers any damage caused by an accident or a manufacturer-related defect as well as defects in materials or workmanship.
To take advantage of this limited-time bundle offer from Group Mobile, visit http://www.groupmobile.com/product.asp/sku=7461, call 866-RUGGED8, or email product-sales(at)groupmobile(dot)com!
About Group Mobile
Headquartered in Phoenix, AZ, Group Mobile serves customers all over North America. Customers range from Fortune 500 companies and the U.S. Military, to local police/fire/ambulance, to small and mid-size businesses, to the frequent traveler that needs something more durable than a commercial, off-the-shelf computer. Group Mobile carries all the leading rugged computing brands. In addition, Group Mobile offers vehicle docking and mounting equipment from Gamber Johnson, Ram Mounts, and Havis/Ledco. To learn more about rugged computers and how they differ from commercial, indoor computers, check out the Rugged Computer Guide or visit us online at http://www.groupmobile.com.
About Trimble's Mobile Computing Solutions Division
Trimble's Mobile Computing Solutions Division offers innovative products that enable mobile workers to be more efficient in extreme outdoor and industrial environments. The Juno T41, Yuma® 2, Ranger™, and Nomad® outdoor rugged handheld computers help users collect accurate field data and work more productively in any outdoor or service-related application. Trimble's handheld computers meet MIL-STD-810F/810G military specifications for drops, vibration, immersion and temperature extremes, and with IP65 to IP68 ratings, are sealed against water and dust. To learn more, visit: http://www.trimble.com/rugged.
About Trimble
Trimble applies technology to make field and mobile workers in businesses and government significantly more productive. Solutions are focused on applications requiring position or location—including surveying, construction, agriculture, fleet and asset management, public safety and mapping. In addition to utilizing positioning technologies, such as GPS, lasers and optics, Trimble solutions may include software content specific to the needs of the user. Wireless technologies are utilized to deliver the solution to the user and to ensure a tight coupling of the field and the back office. Founded in 1978, Trimble is headquartered in Sunnyvale, Calif.