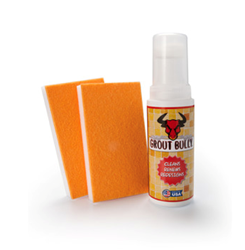 "I would be really disappointed, but for $10-15 it's not a big deal if they're not perfect." - Kate Dircksen
Fresno, CA (PRWEB) August 18, 2013
Grout Bully, Groutinator, Grout Medic and a number of other products all claim to make your grout look cleaner and newer, but do they work? "Good, old fashioned elbow grease" is what's needed according to Sue Perry*. Hard work and determination can go a long way to cleaning many troublesome spots in a home, but what about products like Grout Bully, do any of them work? "I have tried a few different products," says Kate Dircksen, "some work well, some not so much. I would be really disappointed, but for $10-15 it's not a big deal if they're not perfect."
Here are some online reviews posted about the different products.
Grout Bully
Good:
"Like many other gadgets I had preferred my self to toss it out after few minutes of attempting to do what it says it does....honest to god...I started and couldn't stop," says S. M. Tabarsi.**
Bad:
"It covers up whatever may be on your grout, be it dirt, mold, mildew, whatever, this only covers it," explains C. Irish.**
Groutinator
Good:
C. Renaud says, "We have a house where the grout was never sealed - I've tried everything, and spent a ton of money and effort trying to clean them. Groutinator is the best product I've ever used - now I can clean and seal my floors, and hopefully that'll be it!"***
Bad:
"Does not work on floor grout. Lots of blue dust and takes a great deal of scrubbing with little results," says Ann Diefendorf in her review.***
According to the testing experts at Consumer Reports, "When we tried it, it hid mildew at first but didn't keep it from returning."****
For products that appear to good to be true, the Latin phrase "Caveat Emptor" describes this situation perfectly, buyer beware.
For more information about Grout Bully visit GroutBully.info
*WRAL, 7/17/2013, http://www.wral.com/many-grout-cleaners-don-t-deliver-on-made-for-tv-promises/12671968/
**Amazon, http://www.amazon.com/Grout-Bully-White-Solution-Erasers/product-reviews/B007IJ0N4O/ref=dp_top_cm_cr_acr_txt?ie=UTF8&showViewpoints=1
***Amazon, http://www.amazon.com/Groutinator-Grout-Cleaner/product-reviews/B005I4GZ2A/ref=dp_top_cm_cr_acr_txt?ie=UTF8&showViewpoints=1
****Consumer Reports, 5/2013, http://www.consumerreports.org/cro/magazine/2013/05/can-these-quirky-cleaners-mop-up-the-competition/index.htm