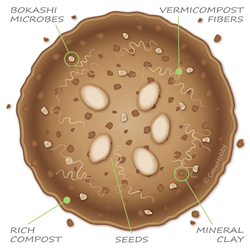 A unique gift that moms absolutely love because it's not the usual pack of seeds or the yearly flower bouquet.
Ithaca, NY (PRWEB) May 04, 2015
GrowHobby recently announced the launch of its second flagship product called GrowGlobes ™. They are hoping to show America a new way to garden and plant their favorite herbs, vegetables and flowers. Specifically they are hoping to spark conversations between parents and children this Mother's Day.
"GrowGlobes ™ are marble-sized balls of compost microbes, clay, vermicompost fibers and seeds," said Lynn Coffey, CEO of GrowHobby. "The growing medium help secure the seeds until the GrowGlobe™ is ready to sprout. We've packaged together our most popular herbs to create an herb garden pack."
Garden and flower companies are gearing up for Mother's Day - a notorious day for buying seeds, flowers and garden supplies for mom.
"We wanted to stand out and really offer something that sparks a conversation" said Coffey. "Our seed balls are designed to be different and make your mom feel like you searched high and low for a unique gift. We've received a lot of compliments on how well the GrowGlobes ™ work but mostly about how gift-givers feel really good about giving a loved one something with historical context that can also be used for mom's gardening passion."
Coffey is referring to the long and storied past of seed balls. They were used in Ancient Egypt and throughout Asia as a way to keep seeds safe until farmers were ready for the seeds to sprout. In the 1700's slave women were brought from Africa to the Carolinas to cultivate rice using the seed ball method. They would then press the seed balls into the Earth as this protected the seeds from the flooding fields as well as birds.
Japanese agricultural hero, Masanobu Fukuoka, began exploring the use of seed balls to help improve food production in post WWII Japan. Today, seed balls are gaining popularity because of their uniqueness as a gift but also as a preferred method to those with a bad back.
"Our GrowGlobes ™ are fun and unique but they also serve a purpose. Those with bad backs are simply unable to get on their knees and plant seeds, and guerilla gardeners love our seed balls because they can simply toss a ball into an abandoned area and when the growing conditions are met the seed will sprout and the neighborhood is made beautiful. It's rare to find a popular gift that kids love as well as older adults."
GrowHobby has shown a unique marketing strategy by offering the GrowGlobes ™ alongside their LED grow light for homeowners.
"We didn't want to just be a grow light company. We wanted to be a website where hobby gardeners could come and order a grow light and a pack of GrowGlobes ™ for themselves or a loved one," said Coffey. "We simply didn't want to be like every other garden supply store. We are unique and our customers are responding emphatically to our products."