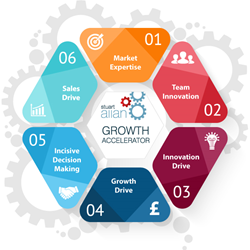 Stuart's three dedicated Growth Accelerator programmes, for varying sized businesses, will replicate the delivery over 14 to 24-week periods, with his own subsidy and easy payment terms to match the withdrawn government funding
Colchester, Essex (PRWEB UK) 16 February 2016
In November 2015, the government announced that the GrowthAccelerator support programme for businesses was set to close at twenty-four hours notice to new applicants, and all businesses currently on the programme had to complete by 31st March 2016. While the closure was expected to save the government £200m, the programme had delivered tangible results for businesses, and created 120,000 jobs. Evaluations conducted by independent academics suggested every £1 spent on Growth Accelerator yielded benefits to the economy of between £4.54 and £9.92. If accurate, GrowthAccelerator would have boosted the SME economy by £1bn.
A former entrepreneur himself, Stuart Allan founded his own Essex-based food manufacturing business in 1987, turning it in to a multi-million-pound international operation by the time of its sale in 2013. His experiences inspired him to develop his own consultancy to help enable other SMEs to achieve success, as Stuart explains:
"I learned some hard lessons in 26 years in business, but they were all valuable and enabled my business to develop into one of the UK's premium independent food manufacturers. In my role as a business coach, I am able to share those experiences and help other businesses achieve the success and profitability they deserve. UK business has so much potential and GowthAccelerator opened a door to dedicated support that I don't believe was as accessible before. Research showed that only 30% of users of GrowthAccelerator said they could obtain similar support elsewhere. That means 70% of business owners who need help to achieve their potential are basically left high and dry; that's just not acceptable."
Before the cut, GrowthAccelerator was judged to be effective in its support, and had helped the overwhelming majority of interviewed businesses to achieve their aims. Stuart's three dedicated Growth Accelerator programmes, for varying sized businesses, will replicate the delivery over 14 to 24-week periods, with his own subsidy and easy payment terms to match the withdrawn government funding.
"I didn't want to see the potential of such a successful scheme disappear," says Stuart. "The companies I have been working with over the last two years have, without exception become more profitable, expanded their market share and enhanced employee engagement. The programmes typically include a strategic review, identification and implementation of profitable goals and targets, SWOT analysis, team training, financial literacy, sales and marketing – in short every aspect a business needs to succeed. They're available, affordable and here to stay as long as businesses need help."
To find out more about the Stuart Allan Growth Accelerator programmes, contact Stuart on 01206 523394 or visit http://www.stuart-allan.co.uk
Editor's notes:
Stuart Allan is a business coach and mentor based in Colchester, Essex and works with companies throughout the South-East of England and East Anglia. Stuart founded Essex-based premium dessert company Indulgence Patisserie Ltd in 1987, turning it into a multi-million-pound international operation by the time of its sale in 2013.
Accredited to the GrowthAccelerator Programme, Stuart is a Business Mentor for senior personnel with all three Armed forces, was a Consultant to the Manufacturing Advisory Service (MAS) and joined the board of Tastes of Anglia in 2015.