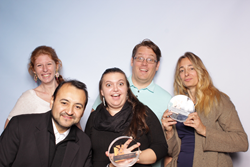 At Market 8 we have refocused all of our efforts from delivering web projects, to accelerating our clients revenue, and this recognition is a confirmation that we have made a successful transition.
Miami, FL (PRWEB) December 08, 2016
It was the results Market 8 delivered for CIM-Team, the creators of software used by more than 28,000 electrical engineers around the world, that secured the Inbound Growth Story award. Market 8 increased website traffic for CIM-Team by 400%, leads by 700%, contacts by 4700+, and trial and demo requests by 4000+. As proof of their ability to solve unique growth-related challenges, Market 8 sourced an engineering intern from Georgia Tech to produce highly technical content for electrical engineers that didn't exist anywhere else, resulting in 36,700 new website visitors and 922 leads from social media alone.
But according to HubSpot's "The Science of Website Redesign" study, these results aren't typical among website redesign projects. Key findings show the following from surveyed companies:
32% of marketers are unhappy with their last website redesign.
47% of small to medium-sized business website redesign projects stretch past the deadline.
51% of these projects run over budget.
Only 24% of businesses are extremely happy with their website redesign results.
Eduardo Esparza, Founder and CEO of Market 8, said it was their decision to take responsibly for more than the delivery of new online assets that has helped them award-winning results. Market 8 believes it's their responsibility to find effective ways to grow their clients' businesses:
"At Market 8, we made a firm decision to not be a typical web design agency. We don't want to deliver late and over budget web projects. We don't want our key deliverable to be a new website or landing page. We want to deliver more, and more predictable, revenue and profit for our clients. Our team is made up of designers, developers, marketers, and copywriters -- and every one of us sits down at our desk each day to answer the same question in our own way -- how can we help this client grow? HubSpot's recognition of our work confirms that we've made a successful transition."
Further validating Market 8's transition to a growth optimization agency, the Happiest Customers award recognizes Market 8's ability to power client growth using HubSpot's full suite of marketing and sales software. To determine the winners, HubSpot analyzed median app usage, the number of clients, and other indicators of satisfied and growing clients for each agency that applied.
David McNeil, VP Global Partner Program and Strategy at HubSpot Inc., had this to say about Miami-based Market 8's win:
"Market 8 has set an example for how businesses everywhere should be transforming their marketing with inbound. Their strategic approach to attracting, engaging, and delighting customers has not only built valuable relationships with their audience, but has driven growth for their agency and the inbound movement. Our team here at HubSpot is proud to call Market 8 a Partner and recognize them with the Latin American Happiest Customers Award."
Moving forward, the Market 8 team is excited to work with more clients who want to partner with an agency that thinks about growth just as often as they do and chases it relentlessly.
Market 8, a HubSpot Partner Agency based in Florida, is a team of growth-driven user interface and experience designers, developers, copywriters, conversion optimizers, salespeople, and business strategists. To date, they've helped over 200 business-to-business and high-value business-to-consumer companies launch cost-effective websites that sell. Their results have earned them the International HubSpot Performance Award, two HubSpot Impact Awards, and nine Hermes awards, including four Platinum B2B website awards in 2016.
To learn more about how Market 8 can help you grow your business, visit our Live Website Performance Evaluation.