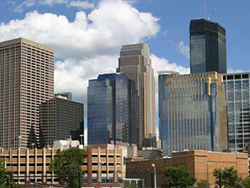 The Twin Cities economy will likely continue to outperform the national economy, with unemployment remaining well below national levels, and net new job growth continuing to be positive. ~ Metrostudy
Minneapolis, Twin Cities Minnesota (PRWEB) September 04, 2014
The Twin Cities housing market reveals the stride of new construction growth levels. The new construction industry has been sullied with multiple challenges that have influenced Minneapolis home builders' pace this summer. While new home construction faces increased costs and constraints from a lack of lots, home builder optimism remains high, according to Metrostudy's 2Q14 survey.
"Summer months are flying by for Minneapolis home builders who are contributing to the Twin Cities housing market with consistent growth, says Jenna Thuening, owner of Home Destination. "Metro home builders find that residential construction spending improvements and the high demand for single-family homes indicate a bright future for growth."
The survey summarizes housing market growth with 1,494 starts in 2Q 2014, up 35.6% from 1Q14 but down 10.4% from 2Q 2013. Spring usually brings higher activity, as the warmer months are the normal window for new home builds. Last winter's brutal weather and delayed warm summer weather dampened construction starts by approximately 10 percent. Weather delays pushed home builders with the need to accomplish more within fewer months; the slightly larger jump in new home starts may have been due to the backlog of work being released.
The bulk of new activity in the Minneapolis - St. Paul 13 county real estate community is strongest in the top sector market areas, according to MetroStudy. The higher 20 submarkets comprise the lion's share of housing transactions, that is near 60% of new home starts in the recent 12 months. However, a lack of ideal lots to purchase for new construction is making it more pricy throughout the "A" & "B" market. The pace of new construction is picking up in the following cities: Otsego, Rogers, Savage, Chaska, Farmington, Waconia, Ramsey and Hudson.
At the close of March 2014 there were 2,769 new housing units that comprised the Twin Cities housing inventory. Inventory is up 136 units from Q1 2014. Here is how that breaks down:

2,035 units or 73% are currently under construction
486 units or 17% are vacant inventory that is completed and ready for building
248 units or 10% are model homes that offer prospective buyer ideas
Housing supply shrank in size when compared with 2013's housing inventory; currently, at 5.9 months, it still demonstrates a strong housing recovery. Increased closings over the past twelve months helped push down our year end supplies to slightly below equilibrium levels of 6-7 months.
Low housing inventory or more specifically low finished vacant inventory is one of the best indicators of the health of a housing market. Finished inventory months of supply sits at slightly above one month, which is actually below equilibrium, considered to be between 1.5-2.0 months. There are currently 20,690 vacant developed lots throughout the Twin Cities, a decline of 7.9% compared to last year.
August's New Real Estate Listings – By Seller Type
Traditional Homes: 121 or +39.1 %
Home Foreclosures: 9 or -35.7%
Short Sale Homes: 5 or -35.5%
Nationally, existing home sales improved 2.4% in July, which marks the fourth consecutive month of positive gains, according to the National Association of Realtors®. These resale homes remain slower than activity levels of existing home sales in July of 2013 by 4.3%. Therefore, the Twin Cities housing market shows better overall averages than the national average. The metro's show but sure pace of consistent improvement for home resales is welcome news for the new construction industry, which is fed when prospective move-up or down-sizing home buyers. The hitch for some is that they must sell their current home before having the capital to invest in a newly built home.
"Altogether, this returns the level of homebuilder sentiment to where it stood in Q4 of last year, prior to the adverse weather that affected the sector earlier this year," said Barclays' Michael Gapen. "Homebuilder sentiment stands only three points below where it stood a year ago. History suggests that the index of future single-family sales is a reasonable gauge of start activity six months ahead. We view this report as consistent with our outlook that improved sentiment should support start activity in the coming quarters."
"Housing demographics in the 13 county Minneapolis - St Paul Twin Cities metro continue to affirm that the area's housing recovery shows consistent progress," adds Thuening. "Millennial homebuyers' dominance may impact how homebuilders adjust to the different preferences of young adults by constructing homes they can afford as first-time buyers. Overall, new construction activity has performed well against odds and deserves the merit it has won for consistent growth."
About Home Destination - Twin Cities Real Estate:
Home Destination offers a loyal and committed real estate professional service that personally handles all the details of selling or purchasing a Twin Cities home. Highly regarded by peers as a Minneapolis metro expert for over 15 years, gain a skilled representative as guide to make the best possible housing decisions. Helping all ages, from Millennial home buyers to retiring seniors, Jenna Thuening offers the real estate experience buyers and sellers benefit from.
Contact:
Jenna Thuening
Web. http://www.homedestination.com
Email. jenna(at)homedestination(dot)com
Tel. 612-396-7832