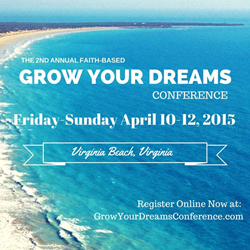 We are mission-based believers fully operating in the global marketplace with integrity.
Virginia Beach, Virginia (PRWEB) April 01, 2015
Every entrepreneur, author or artist has a dream of success; some make it, and others do not. Linda Dominique Grosvenor-Holland, founder of the Grow Your Dreams Network believes she holds the key to making dreams become a reality. She will host the second annual Grow Your Dreams Conference April 10-12, 2015, in beautiful Virginia Beach, and will share the tools of obtaining the business success desired by conference attendees.
The Grow Your Dreams Network started in November 2013 as a Christian business group on Facebook. The inaugural conference began as a virtual conference which could be accessed online and by telephone. The success of the virtual conference lead to creating a formal, traditional conference.
Grosvenor-Holland has coached hundreds of entrepreneurs and authors to success, and the Grow Your Dreams Conference allows her to expand her brand and showcase the talents of other Christian professionals. "I believe that there is nothing any of us can accomplish without faith in God, and doing the work. We are mission-based believers fully operating in the global marketplace with integrity."
Topics to be discussed at the Grow Your Dreams Conference:

How to Keep Your Dream Relevant in the NOW season
Principles of Kingdom Finance for Life and Business
Getting in Covenant with Your Purpose
The Ultimate Merger: How to Make Your Business Grow
Are you Destroying Your Dream? Knowing Your Legal Rights, and more.
Linda Dominique Grosvenor-Holland is a social media super star, having amassed thousands of social media followers on the major social media platforms. It is through social media that she has gained clients and developed trusted members of her "Dream Team." Hansani Pettiford, was a featured speaker in the inaugural Grow Your Dreams Conference, and is co-founder of Couples Academy, says that "Linda is a master teacher who is successful at getting people to take action. As an aspiring author, I took her course and things have not been the same since. I have now written and published 10 books, and two have become bestsellers." Besides being popular on social media sites, Grosvenor-Holland is a much sought-after consultant on Clarity.fm, the on-demand business advice portal for entrepreneurs.
Grosvenor-Holland is affectionately known as The Midwife ™ to the entrepreneurs because she assists them with giving birth to their dreams. There are now over 1,000 "Dreamers" in the Grow Your Dreams Network Facebook group, which is closely monitored to prevent spammers and opportunists. It is a closed group on Facebook, and individuals are added into the group by other members, and by its administration.
The Grow Your Dreams conference accommodations will be at The Courtyard Marriott Virginia Beach Oceanfront. "Being near the ocean will make such a wonderful backdrop for the conference. We will conclude the conference with prayer on the beach, and our very first 'Dreamers Choice' awards presentation. I am excited to have those novice and seasoned entrepreneurs who desire to use their gifts for Kingdom business, and to learn best practices to attend. This is the conference just for them," states Grosvenor-Holland.
To register for the Grow Your Dreams Conference, visit http://www.growyourdreamsconference.com
To connect with the Grow Your Dreams Midwife ™ Linda Dominique Grosvenor-Holland, visit her website http://www.lindadominiquegrosvenor.com.
###