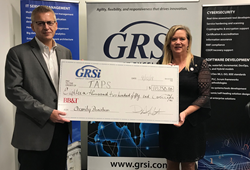 "We are incredibly grateful to TAPS for their work supporting the families of fallen veterans. It is an honor to support such a worthy organization." - Dr. David Affeldt, GRSi CEO & President
FREDERICK, Md. (PRWEB) September 14, 2018
GRSi presented a check for $18,250 to the Tragedy Assistance Program for Survivors (TAPS), setting a new record for funds raised through the firm's annual charity golf tournament. This year's event, held at Worthington Manor Golf Course on the Thursday before Memorial Day, attracted multiple sponsors and over 100 golfers.
Marie Campbell, Senior Advisor, Community Engagement & Special Events at TAPS, received the check on behalf of the organization in a presentation ceremony held at GRSi corporate headquarters. GRSi CEO and President, Dr. David Affeldt presented the check to Ms. Campbell, stating, "We are incredibly grateful to TAPS for their work supporting the families of fallen veterans. It is an honor to support such a worthy organization."
TAPS offers compassionate care to all those grieving the loss of a loved one who died while serving in our Armed Forces or as a result of his or her service. Since 1994, TAPS has provided comfort and hope 24/7 through a national peer support network and connection to grief resources, all at no cost to surviving families and loved ones. To date, TAPS has assisted more than 80,000 surviving families, casualty officers and caregivers.
About GRSi
GRSi is a professional services and technology innovations company, providing state-of-the art solutions across a broad range of requirements, in highly agile yet controlled environments complying with CMMI, SEI, IEEE/EIA standards and Lean Six guidelines supporting critical mission objectives in the DoD, Civilian and commercial communities.
GRSi provides IT infrastructure modernization and architecture design, software engineering, technology assessment and insertion, cybersecurity, scientific & Health IT solutions, cloud services, and multi-tier IT Service Management to 10,000 direct users and more than 100,000 indirect users leveraging more than 350 subject matter experts and CMMI/dev-ML3 appraised and ISO 9001:2015 audited processes coupled with Agile best-practices. Learn more at http://bit.ly/GRSiHome.