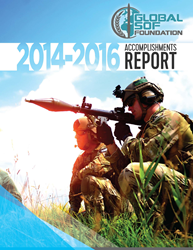 The Global SOF Foundation brings together an immense pool of talent from all across the SOF community. This creates a forum that is greater than the sum of its parts, and through that I've seen some innovative approaches to tackling complex problems.
Tampa, Florida (PRWEB) July 19, 2016
The Global Special Operations Forces (SOF) Foundation is unique. It is the only organization committed to educating national leaders and policy makers about the roles and capabilities of SOF, advocating for improvements in global SOF interoperability and capability, and expanding and strengthening the global network of SOF partners in support of collective security.
In its first Accomplishments Report, the Foundation describes its increasingly successful events (the most recent of which included 37 countries), its 106% growth in individual membership, its 73% growth in corporate partnership, and its plans for the future.
The GSF now has over 1,200 individual members from 53 countries and 55 Corporate Partners. An average of three people join the Foundation every day. This network of SOF partners is essential to confront the belligerent and terroristic state and non-state actors that threaten peace and security. The GSF is the unifying institution that brings together the public and private sectors to collaborate on these complex security challenges.
As it looks to next two years, the GSF has three simple goals: (1) grow the individual memberships and corporate partnerships; (2) execute world-class events that bring together the global SOF community annually; and (3) educate and advocate for SOF.
To unify the global SOF community the GSF holds annual events--both substantive and social. Every year in February/March, the GSF hosts its Global SOF Symposium in the United States. This event focuses on the role of SOF in global security, interoperability among SOF partners, and issues related to the future employment of SOF. Every fall the Foundation will work with a willing nation to co-host a symposium outside the United States. These events are critical because they institutionalize annual meetings that historically been episodic.
The Foundation invites you to attend its next events:
1. October 13-14, 2016: Global SOF Symposium - Europe in Vilnius, Lithuania
2. November 16, 2016: Annual Reception in Washington, DC
3. February 21-23, 2017: Global SOF Symposium in Tampa Bay, Florida