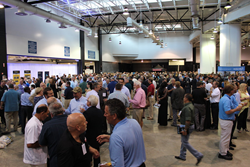 "GSF Partners are getting exposed to a market they haven't seen before..." Thomas "Tucker" Campion, Team Poseidon
Tampa, FL (PRWEB) April 26, 2017
Galas, speeches, and exhibit halls all serve valuable purposes, but sometimes it's better to start a busy week with a good old fashioned party. That's how the Global Special Operations Forces (SOF) Foundation chooses to honor Tampa's SOF Industry Conference (SOFIC) each year--with a reception that features its Corporate Partners and facilitates networking in a laid-back environment.
This annual event, which will be held in the massive Port Tampa Bay Terminal 2 on May 15, has reached up to one thousand guests in past years and is expected to hit that same mark in 2017. Registration includes food and drink tickets, and event sponsors have contributed a variety of unique desserts, bourbon tasting, beer flights from local breweries, cigar rolling, and games like "tumbling towers."
The reception hall will also be peppered with displays and demonstrations from non-profit organizations like Guardian Angels Medical Service Dogs and AAFMAA, which provides financial solutions to military veterans, as well as the Foundation's Corporate Partners.
Global SOF Foundation Corporate Partners are companies that have invested in the Foundation to grow their Special Operations networks, support veterans of the SOF community as they transition to civilian careers, and contribute to advocacy for SOF resourcing. This group includes 55 prestigious companies, from large defense giants to small businesses with more focused contributions to the SOF community.
Prior to the evening reception, Corporate Partners will participate in an event called "Speed Networking," which is a fast-paced opportunity for each organization to highlight its capabilities and contributions to SOF. This event is only open to Global SOF Foundation Corporate Partners and, for the first time, Members are welcome to be part of the audience.
Speed Networking and a VIP pre-reception will take place from 4 - 7 PM, while the reception will go from 7 - 10 PM. The early bird deadline for registration is May 1, after which prices will increase by $10.
Register here: http://bit.ly/2017-GSF-SOFIC
----------
The Global SOF Foundation is a 501(c)(3) non-profit organization and the only professional association for the international Special Operations community. The Foundation mission is to both advocate for SOF resourcing and convene the SOF community.
https://globalsoffoundation.org/