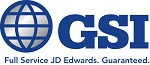 GSI believes the best way for customers to realize the greatest value from their enterprise systems is through education.
ATLANTA (PRWEB) August 14, 2019
GSI, Inc. is pleased to announce they will host 9 sessions during the JD Edwards INFOCUS 19 Conference, on August 20-22 at the Sheraton Denver Downtown Hotel in Denver, Colorado. In addition to the 9 educational sessions, GSI will be exhibiting in Booth 304.
GSI's educational sessions:

How to Implement Multi-Foundations with Server Manager (Tech Tools Release 9.2.3)
Tech Tools 9.2.3.4
Case Study: How Darling Ingredients has benefited from the Oracle/JD Edwards Continuous Innovation
Moving JD Edwards to the Cloud – 10 Step Roadmap
Orchestrator for Dummies
Orchestrator for Techies
Decustomizer Report: How to Identify Customizations that Can Be Removed Prior to Upgrading
JD Edwards: How to Use Health and Safety Incident Management Module
Obtain True Lean with Orchestrations
On August 20th, GSI will be hosting a reception at the Yard House at 7:30. For more information and to register, please visit GSI Reception.
A complete list of GSI's sessions, times and locations can be found at GSI INFOCUS 19 Schedule or stop by the GSI Booth 304.
"GSI believes the best way for customers to realize the greatest value from their enterprise systems is through education," said Kevin R. Herrig, president and ceo of GSI, Inc. "In addition to our 9 strategic sessions, GSI hosts a series of free weekly webcasts on various topics related to JD Edwards including Orchestrator, UX One, UDO's, new tool releases, cybersecurity, A.I. and other new transformational technologies."
About GSI, Inc.
As an Oracle Platinum Partner and a recognized industry leader with global reach, GSI, Inc. specializes in providing a broad spectrum of project consulting and managed services for Oracle JD Edwards, Oracle NetSuite, Oracle Cloud, Salesforce, ServiceNow, BMC, and other enterprise applications. GSI also offers an extensive array of cloud/hosting solutions for Oracle Cloud, Amazon Web Services (AWS), Microsoft Azure, Google Cloud, and JDE Cloud9. GSI combines its deep application and industry experience with advanced A.I. and automation to deliver cutting edge intelligence. This advanced intelligence combined with our outstanding people allow GSI to deliver Service Excellence every single day.
The client-centric consultancy also offers a comprehensive suite of solutions including AppCare, a 24/7 managed service including EaaSy with flexible "on-demand" services and dynamic pricing; GENIUS, an advanced monitoring application; GENISYS, a solution for optimizing system performance; gShield, a comprehensive security solution; RapidReconciler®, its inventory reconciliation software; RapidApproval, a Salesforce AppExchange solution for streamlining the approval request process; as well as JDE Cloud9, a complete cloud-based hosted service. GSI consulting services are backed by its signature 100 percent guarantee. Founded in 2004, the rapidly growing company is headquartered in Atlanta with locations nationwide. GSI, Inc. has been named to Inc. Magazine's Inc.5000 list of fastest growing companies for two consecutive years.