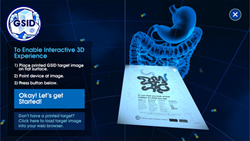 For an orphan pharmaceutical company, QOL is truly ahead of the curve on this one.
Vero Beach, FL (PRWEB) October 16, 2017
Augmented Reality is the integration of digital information with the user's environment in real time. Unlike Virtual Reality apps that replace the user environment with computer-generated images, the AR experience can be achieved with no dedicated gear; all you need is a smartphone or tablet.
"As we know AR is all the rage. For an orphan pharmaceutical company, QOL is truly ahead of the curve on this one. The GSID AR App will allow both doctors and patients to experience an in-depth look at this rare disease. With the aid of augmented reality, we can peel away the layers to peek inside the human body to reveal what exactly is going on in there. It's just so cool. No glasses or headgear required! I'm sure our doctors and patients alike will love this new learning tool," said QOL's Vice President of Marketing, Anthony D'Elia.
QOL's target audience is the physicians and medical professionals who treat GI (stomach) diseases and conditions but who might not be aware of GSID. "We are dedicated to ongoing innovation to help both educate and increase awareness of GI-based, rare diseases in user-friendly ways," D'Elia said.
The GSID AR app is free and available now for download in the Google Play™ store and Apple App Store.
About GSID
GSID, also known as Congenital Sucrase-Isomaltase Deficiency, is a rare disorder that affects a person's ability to digest certain sugars due to absent or low levels of two digestive enzymes, sucrase and isomaltase. Sucrase and isomaltase are involved in the digestion of sugar and starch. Sucrase, an enzyme produced in the small intestine, aids in the breakdown of sucrose (table sugar) into glucose and fructose, which are used by the body as fuel. Isomaltase is one of several enzymes that helps digest starches. Failure to absorb dietary sucrose and starch may impact the absorption of other nutrients and the hormonal regulation of gastrointestinal function. Patients with GSID are at risk for chronic malnutrition; indeed, failure to thrive is one of the characteristics of the disease state. In addition to diarrhea, some patients suffer from gassiness, abdominal distention, and pain.
About QOL Medical LLC
QOL Medical is a specialty, biopharmaceutical company dedicated to improving the quality of life for patients with rare diseases, for their families, and for the physicians and caregivers who support them. QOL Medical is a patient-centric company founded in 2003 to focus on the acquisition and commercialization of orphan products in underserved markets. QOL Medical ensures an expanded clinical awareness and patient access for improved quality of life in the treatment of rare and orphan diseases. In its commitment to assure safe and effective products for its customers, QOL Medical uses validated procedures through audited and approved vendors for manufacturing, testing, and distribution. Learn more at http://www.qolmed.com.