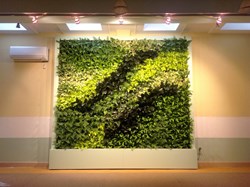 The wow-factor of the Green Wall is undeniable; no classroom or other preschools in Brooklyn has yet to accomplish this.
(PRWEB) August 28, 2013
After 15 years of teaching children in Brooklyn, the popular teacher, Carmelo the Science Fellow, is opening a new science-based preschool where kids get to learn about science, the world and the environment. Interested in science and all living things, Carmelo Piazza decided to bring life to an education setting by building a new preschool that is different than any other preschool out there. The school, known as the Brooklyn Preschool of Science, is a two-floor high building, located on 11 Wyckoff Street.
"We wanted to create an environment that would help foster and develop children's love for learning about science at an early age," said Carmelo Piazza, founder of the Brooklyn Preschool of Science. "Everything that went into bringing this vision to reality, from design to school curriculums, was carefully chosen to encourage children to discover how the world works by following their natural fascination and curiosity about natural life phenomena."
Contributing to this vision, GSky Plant Systems, Inc. worked together with Parker Urban Greenscapes to bring a 95 sq. ft. Versa Green Wall to the new preschool. The GSky Green Wall serves as a striking focal point where kids and staff will be greeted by its 437 adorning, leafy green plants including: Asplenium Nidus, Epipremnum Aureum 'Neon', Epipremnum Aureum 'Marble Queen', Ficus Elastica 'Burgundy', Asplenium Dimorphum X Difforme 'Austral Gem' and Epipremnum Pictum.
"The Green Wall is a very neat, visual concept that also provides health benefits: the plants exchange carbon dioxide and clean the air. Placed in a school setting, we can treat it as a teaching tool in which children can learn about plants and nature through hands-on learning," said Tom Walsh, GRP, Business Development Director at Parker Urban Greenscapes.
"The general ambiance is improved and the Green Wall gives the room a stunning focal point. The wow-factor of the Green Wall is undeniable; no classroom or other preschool in Brooklyn has yet to accomplish this," said Leonardo Cordoba, Architect at Baxt Ingui Architects, P.C.
In addition to a GSky Green Wall, each floor will also feature a 'rainbow wall' that lights up with colors of the spectrum. The preschool will also be home to an indoor aquarium and reptile animals.
"We loved the results! All the living things: plants and animals come together nicely and articulate the client's intent of a science-themed preschool, where kids are introduced to many life forms," said Cordoba.
GSky's Versa Wall System is user-friendly and easy to install and maintain for any interior Green Wall. It employs 4-inch industry standard pots that can be placed directly into the Versa Wall tray to ensure instant plant coverage, offering flexible installation options and a variety of plant selections. The Versa Wall is eco-friendly, customizable, durable and economical. Additionally, it has a recirculating irrigation system that is 100% water efficient and self-contained.
From an indoor aquarium and reptile animals, to a full-blooming GSky Green Wall, the designs of the building all tie together to create a positive learning environment that is inspired by nature and the wonders of life.
About GSky Plant Systems, Inc.
Founded in 2004, GSky Plant Systems, Inc. is a leading provider of vertical Green Walls in North America and the Middle East. The business was founded based on the explosive growth of green technology, including Green Wall and Roof Systems in Asia. GSky currently offers three Green Wall Systems: Pro Wall, Versa Wall and the Basic Wall. Each system is unique in terms of design flexibility, installation location versatility, plant selection variety, desired size, cost, coverage time-line, and system components. GSky also offers a suite of services including maintenance, remote monitoring, and consulting as full-service contracts or à la carte. GSky strives to make plant systems more accessible and functional in urban environments while having a net positive impact on the environment. For more information, visit us at http://www.gsky.com, "Like" us on Facebook at facebook.com/gskyplantsystems or Follow @gskygreenwalls on Twitter.
About Parker Urban Greenscapes:
Headquartered in central New Jersey, Parker Urban Greenscapes is a division of Parker Interior Plantscape Inc specializing in the design, growing, installation and maintenance of green roofs and green walls. With a commitment to "green" and a staff of horticultural experts, Parker offers the experience and knowledge required to keep green roofs and green walls growing healthy and strong for years.
Visit http://www.ParkerUrbanGreenscapes.com for more information or "Like" us on Facebook at facebook.com/parkercompanies.