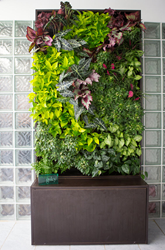 (PRWEB) September 29, 2014
GSky Plant Systems, Inc., a leading provider of vertical Green Wall Systems in North America, Europe, Middle East and Australia, is pleased to announce it has upgraded its line of popular Smart Wall™ Cabinets. The release of the new line is in conjunction with an October 1st webinar discussing the new line including its uses for holidays decorating. The 30 minute webinar takes place at 11am CT Wednesday October 1st and will be followed by a Q & A session.
The eco-friendly plant Smart Wall™ Cabinets measures over 7 feet high and 3.5 feet wide and are fully assembled and pre-built wall gardens. They are designed to add a splash of color and nature to any workspace or home, using a total of 104 four-inch potted plants that can be placed directly into GSky's patented Versa Wall™ Tray System with no planting required.
Smart Wall™ Cabinets are designed to be easy to use. A pump and removable water tank recirculate water in the Green Wall System automatically. Smart Wall™ Cabinets were built expressly for quick and simple deployment, and do not require special water hookups.
The new features of the GSky Smart Wall™ Cabinets include:

Electric and Cordless Pump options: Cordless Pumps are fast, feature a long battery life and can be used in places where practicality or aesthetics limit the ability to plug into wall sockets.
Thermally Fused Eco-Friendly Laminate: A handsome and durable finish which resists wear and scratches. Standard finish in white, black and espresso brown. Customized wood, metal and textured finishes are also available.
Removable, Large Capacity Water Tank: Holds several weeks of water for low maintenance operation and is removable for easy cleaning.
"We believe our Smart Wall™ Cabinet is one of our most modern and versatile products. It's perfect for indoor environments such as lobbies, reception areas, hallways and other places of high traffic," says Hal Thorne, CEO of GSky Plant Systems, Inc. "We are thrilled to introduce these new upgrades to offer the most efficient, durable and attractive plant cabinet on the market."
The use of plant walls in interior design adds a modern and natural element of style. Plants also help clean indoor air of harmful toxins. The Smart Wall™ Cabinet is an excellent option for those who have more wall space to work with than floor space. In fact, two or three of them may be lined up for a visually stunning indoor vertical garden. "We have assembled multiple units together with various plant types for an instant, stunning indoor design," Thorne says. "GSky also offers custom design services to make sure you have the perfect wall garden for your home or business."
Register here for the 30 minute webinar October 1st at 9am PT/10am MT/11am CT/12pm ET to learn more about the GSky Smart Wall™ Cabinet system.
About GSky Plant Systems, Inc:
Founded in 2004, GSky Plant Systems, Inc. is a leading provider of vertical Green Walls in North America, Europe, Middle East and Australia. The business was founded based on the explosive growth of green technology, including Green Wall and Roof Systems in Asia. GSky currently offers three Green Wall Systems: Pro Wall™, Versa Wall™ and Basic Wall™. Each system is unique in terms of design flexibility, installation location versatility, plant selection variety, desired size, cost, coverage time-line, and system components. GSky strives to make plant systems more accessible and functional in urban environments while having a net positive impact on the environment. For more information visit us at http://www.gsky.com, "Like" us on Facebook at facebook.com/gskyplantsystems or follow @gskygreenwalls on Twitter.
About GSky Smart Wall™ Cabinet:
GSky Smart Wall™ Cabinets are fully assembled, pre-built large wall gardens – just add plants and water. GSky's vertical gardening systems add a burst of nature, color and unique design to any home or work space. Smart Wall™ Cabinet is auto-irrigated, waterproof, and does not require special water hook ups for ease of installation and maintenance. Living wall gardens give any room or office a "wow" factor in addition to providing better air quality.